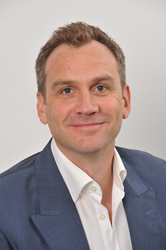 The concept of attracting bad luck is all in your head; luck is influenced by your thoughts and beliefs.
(PRWEB UK) 12 June 2014
As another Friday the 13th strikes, you can put to bed any thoughts that this day is the harbinger of bad luck says Dr Matthew Smith, psychologist and 'luck doctor' from Buckinghamshire New University.
Dr Smith says: "The concept of attracting bad luck is all in your head; luck is influenced by your thoughts and beliefs and actually comes down to the right balance of accepting what you can't control and influencing what you can in order to make your own luck."
Follow his tops tip for attracting good luck on Friday the 13th (or indeed any day!)...
1 Embrace 'luck'
So many things in life are uncertain, unexpected and unplanned. The challenge is to embrace these events and acknowledge that much of what happens to us is down to luck, good and bad.
2 Expect good luck
If you expect good luck rather than bad, you may find that you're actually likely to have more of it. Psychologists call this a 'self-fulfilling prophecy' in that your beliefs influence how you interact with the world, which in turn affects the things that happen to you. This might at first seem at odds with tip 1, but there are many things we might put down to luck, which we can influence! Getting the balance right can be quite powerful, especially on a day like Friday the 13th, when others are expecting the worst.
3 Be open to opportunity
There are opportunities around us all the time, we just don't pay notice them. Cultivate a relaxed and open attitude to what's around you to spot these opportunities and recognise them as such. It's within these opportunities that many 'good luck' experiences can lay. Don't forget your own role in creating opportunities... striking up conversations and taking yourself out of your comfort zone are simple but important ways of making opportunities, and making your own luck.
4 Go with the flow
The idea of 'going with the flow' often gets a bad press, but knowing which way the wind is blowing and letting yourself be carried along with the breeze is actually a great way to let luck into your life. It requires an element of trust to get what you need and that unplanned events, if you let them, can be the source of exciting surprises!
5 Stercus accidit (look it up!)
Let's be honest... it's the bad luck you're worried about when it comes to Friday the 13th isn't it? There's no getting away from the fact that bad things do happen. It is just part of life. But you can still use simple psychology to deal with unfortunate stuff effectively. One way is to remember that no matter what happens, it could be worse. Another way is to look for the lesson to be learned. What can be gained from this experience? Taking this perspective doesn't always come easy but it can help through the hardest of times.
Editor's notes
Dr Matthew Smith is a Senior Lecturer in Psychology and teaches on the MSc in Applied Positive Psychology at Buckinghamshire New University. Prior to joining Bucks New University, Dr Smith taught at Oxford Brookes University, Liverpool Hope University, and Liverpool John Moores University. His PhD research examined the psychological aspects of 'luck', both good and bad.
Buckinghamshire New University has enjoyed a long and successful history since it was founded in 1893. The University offers an extensive portfolio of courses spanning the creative and cultural industries, the management and information management sectors, and the public sector. It also offers services to industry including contract research, consultancy and the opportunity to employ graduates.
The University has a state-of-the-art building in High Wycombe known as the Gateway, which comprises a learning resource and technology centre, events hall, gym, sports science laboratory, dance, drama, music and video production studios, library and meeting rooms. It also offers a growing provision of student accommodation in High Wycombe; and a thriving base for nursing students and applied healthcare research in Uxbridge, West London.
Its alumni include television star Noel Fielding and London 2012 Paralympic and Olympic medallists Naomi Riches and Chloe Rogers, and it has bestowed honorary degrees on well-known figures including Fern Britton, Terry Wogan and England Rugby World Cup winner Lawrence Dallaglio.
Website: bucks.ac.uk
For further information, details and images contact Dean Valler, Communications Officer at Buckinghamshire New University, on 01494 601 636 or 07920 212 937 or email dean.valler(at)bucks(dot)ac.uk.