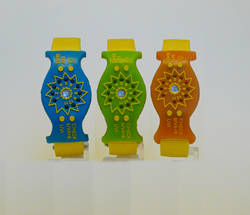 I love my SunFriend, says Lucinda Harms, RPh CarePro Advance Health in Cedar Rapids, Iowa
College Park, MD (PRWEB) June 13, 2014
The UVA+B SunFriend® or SunFriend® is the worlds first wearable UV monitor accessible to everyone. It is a new tool, like sunscreens and hats, which will empower people to be safer in the sun.
Available on Amazon Prime as of June 6, 2014.
The concept received its first award at the NASA Tech Brief's Design the Future contest for Best Consumer Product. Since then it has won numerous accolades for innovation and approval by the Vitamin D Council. Sales efforts launched in May of 2014 and as of June 2014, five colors are available in time for summer.
Why another tool for UV exposure safety? People want to be more empowered when it comes to their own health. The sun is essential to being healthy, and yet too much sun may have serious detrimental effects. Following are typical challenges existing sun management tools pose:

Sunscreen prevents beneficial ultraviolet (UV) B from penetrating the skin. UVB is needed to synthesize vitamin D from the sun.
Many sunscreens contain chemicals and nano-particles that may penetrate the skin and go directly into the bloodstream.
Hats and clothing are great, but not always practical, especially when in the water. They may also block the healthy UVB rays
How much sun an individual needs to be healthy is currently a guessing game – often typical advice such as "get one half hour of sun per day" does not take into consideration how dark the skin is, what the UV Index is or current weather conditions.
SunFriend® is a wearable UV activity monitor, that alerts the wearer when they have had enough sun. It can be easily customized for skin color and sensitivity, and it constantly reads any UV the user is exposed to – from the sun, reflected off water, under clouds, etc. When all of LED's have lit up they start to flash to indicate a safer dose of sun has been reached for the day. SunFriend® is waterproof, perfect for pools and at the beach. A team of sensor engineers, physicists and designers assisted in its development. The SunFriend® includes sophisticated sensor technology inspired by NASA, and provides an accurate UV Index to the wearer which is used to calculate and exposure limits.
The SunFriend® is designed to help users optimize vitamin D level and other healthy benefits the sun has to offer, as well as reduce the incidence of skin damage simultaneously. People are ready for SunFriend®, a tool that allows them to attain "Safer Sun Time".
It is available as of June 2014 on Amazon. A Bluetooth version is in the works for 2015 as well as many other product iterations.
UVA+B SunFriend® is developed by SunFriend Corporation in Maryland, United States. SunFriend Corporation is committed to empowering people through tools for Safer Sun Time™. Additional information can be found on their website http://www.SunFriend.com.
Contact Karin Edgett
Safer(at)SunFriend(dot)com
202.907.4474