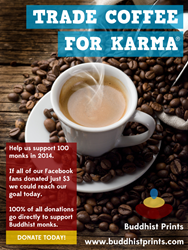 San Francisco, Ca (PRWEB) June 13, 2014
Trade Coffee for Karma campaign starts today with 100% of the funds raised going support over 100 Buddhist monks who are now living in Nepal and India. By donating $3.00 anyone will support a monk for a day. The idea is for donors to make a conscious choice to give freely to another human being who is dedicated and praying to improve the quality of life for people around the world.
Trade Coffee for Karma is available for donation at http://buddhistprints.com/shop-3/trade-coffee-for-karma-2. The idea was created to demonstrate how such a small action can help another and make such a big impact on someone else's life.
Buddhist Prints™ makes social responsibility their first priority by sponsoring Tibetan monks and their students displaced in Nepal and India. The company has made a bold move to have 100 percent of their profits donated to the monks to support them as they continue their tradition of devoting their lives to the world at large through prayer. The campaign was created so the 100% of proceeds go to their support and expand the message of positivity and doing good in the world.
About Buddhist Prints™
Buddhist Prints is a source for funding for Buddhist monks now living in Nepal and India. We hope the supporter feels inspired by their actions and by the monks' positive energy through prayer. For more information and to purchase prints or sponsor a monk, visit Buddhist Prints online at http://www.buddhistprints.com and join us on at: http://www.facebook.com/buddhistprints and http://www.twitter.com/buddhistprints.
About DigiPowers
All the work (creative and management) is donated by Digipowers, its staff and their partners. There are absolutely no expenses associated with Buddhist Prints operations. DigiPowers is a marketing software company based in San Francisco and NewYork.