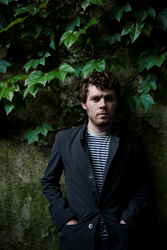 "The fact that such a gifted musician has chosen Yamaha is a testament to the quality of our pianos. Gabriel will be an asset to our family of artists around the globe," said Bonnie Barrett, Director of Yamaha Artist Services, Inc.
New York (PRWEB) June 13, 2014
Gabriel Kahane, who has earned critical acclaim as a composer and performer in several genres ranging from pop and folk music to musical theater and concert works, has joined the global family of distinguished Yamaha Piano Artists.
"Gabriel Kahane's talents are as eclectic as his musical interests, which he has demonstrated in his work as a classical composer, chamber musician, singer/songwriter as well as in musical theater. We are thrilled to welcome him as a Yamaha Artist," said Bonnie Barrett, Director of Yamaha Artist Services, Inc. "We're eager to see where Gabriel's musical abilities and vision will lead, since he has already accomplished so much in just a few years. We look forward to supporting him in the recording studio, in clubs and in concert halls, or wherever his music will be heard."
Kahane's talents as a singer-songwriter are on display in his highly anticipated debut album for Sony Masterworks, The Ambassador, a collection of songs inspired by the architecture and popular culture of Los Angeles, released June 3. The new album is the first of a three-record deal with Sony.
The New York Times hailed Kahane's critically acclaimed previous album, Where are the Arms, for its "extravagant poise and emotional intelligence."
As a composer of concert works, Kahane has been commissioned by the Brooklyn Academy of Music, Carnegie Hall, the Los Angeles Philharmonic, American Composers Orchestra, Kronos Quartet, The Caramoor Festival and Orpheus Chamber Orchestra, which he toured with last spring performing Gabriel's Guide to the 48 States, an hour-long cycle on texts from the WPA American Guide Series.
Fans, fellow musicians and critics alike have noted that Kahane seems as comfortable in major concert halls as he does in club settings or on a musical theater stage. In 2012, for instance, Kahane, a graduate of Brown University, made his recital debut at Carnegie Hall in a program devoted to his music. That same year, the musical February House, for which Kahane wrote the much-lauded score, made its New York premiere at the Public Theater.
The list of artists he has collaborated with is as impressive and diverse as his own musical career. Kahane has performed or recorded with musicians ranging from Sufjan Stevens, Rufus Wainwright, Chris Thile, and Brad Mehldau to Jeremy Denk, Jonathan Biss, and composer/conductor John Adams. As a chamber musician, he has appeared in recital with the string quartet Brooklyn Rider at Carnegie Hall, at the Library of Congress with fellow composer/ performer Timo Andres, and on tour throughout North America with cellist Alisa Weilerstein.
"The fact that such a gifted musician has chosen Yamaha is a testament to the quality of our pianos," added Barrett. "Gabriel will be an asset to our family of artists around the globe. We look forward to helping him share his artistic vision."
Kahane said he looks forward to working with Yamaha Artist Services. "I am thrilled to join the Yamaha roster," he said. "Not only are Yamaha's instruments gorgeous and well balanced, but their staff, too, is kind and professional, providing incredible resources to artists."
-END-
About Yamaha Artist Services
Yamaha Artist Services, Inc. (YASI) is widely recognized for its consummate professional service and unwavering commitment to the global performing arts and educational community. YASI is dedicated to supporting the needs of artists, cultural organizations and educational institutions worldwide. Playing a pivotal role in developing and enhancing these important affiliations, YASI showcases, at the same time, the most advanced Yamaha professional instruments.
Headquartered on Fifth Avenue at East 54th Street in New York City, Yamaha Artist Services occupies two separate floors, which include the Piano Salon and the Band & Orchestral Atelier.
Encompassing the entire third floor, the Piano Salon features an elegant performance venue with seating for 150. The space houses a large selection of performance-ready concert grand pianos, including the acclaimed CFX Concert Grand piano and the Bosendorfer Imperial and Concert Grand pianos, as well as Disklavier reproducing grand pianos. The facility also features an artist lounge, a green room (practice studio), a stage that can showcase multiple pianos, business offices and a workshop for piano technicians.
About Yamaha
Yamaha Corporation of America (YCA) is one of the largest subsidiaries of Yamaha Corporation, Japan and offers a full line of award-winning musical instruments, sound reinforcement and home entertainment products to the U.S. market. Products include: Yamaha acoustic, digital and hybrid pianos, portable keyboards, guitars, acoustic and electronic drums, band and orchestral instruments, marching percussion products, synthesizers, professional digital and analog audio equipment, Steinberg recording products and Nexo commercial audio products, as well as AV receivers, amplifiers, Blu-ray/CD players, iPod docking systems, home-theater-in-a-box systems and its exclusive line of Digital Sound Projectors. YCA markets innovative, finely crafted technology and entertainment products and musical instruments targeted to the hobbyist, education, worship, professional music, installation and consumer markets.