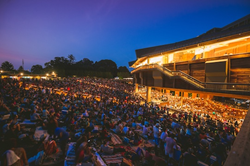 Vienna, Virginia (PRWEB) June 12, 2014
Replay America 2014
The Go-Go's
Scandal feat. Patty Smyth
The Motels feat. Martha Davis
Cutting Crew
Naked Eyes feat. Pete Byrne
Tuesday, July 8, 2014 at 8 p.m.
Whether you lived through the perms and leg warmers of the '80s or just enjoy jamming out to totally tubular tunes, you'll love Replay America 2014. It brings together the best of the decade's New Wave, rock, and punk artists for a star-studded night.
The Go-Go's, one of the most popular groups of the '80s, became the first, and only, all-girl group to top the charts by writing and performing its own original songs. AllMusic called its triple platinum debut album, Beauty and the Beat, "one of the cornerstone albums of New Wave." The album featured the power-pop hits "We Got the Beat" and "Our Lips Are Sealed."
Video: The Go-Go's—"We Got the Beat"
Scandal, fronted by singer/songwriter Patty Smyth, took advantage of the '80s foray into music videos by using both its image and voice to captivate audiences. Smyth was nominated for a Grammy and Academy Award for her original song "Look What Love Has Done" for the 1994 movie Junior.
Video: Scandal—"Beat Of A Heart"
The Motels, another popular female-fronted New Wave band, broke into the scene with its 1982 American Music Award-winning hit "Only the Lonely." The Los Angeles Times raved about the group, calling lead singer Martha Davis "arguably the most charismatic female performer in rock."
Video: The Motels—"Take The Lead"
English boy band Cutting Crew singlehandedly gave the now-massive Virgin Records its breakthrough in America with the hit single "(I Just) Died in Your Arms Tonight." Following the success of their first single, the band went on to release four albums, including 2006's Grinning Souls.
Video: Cutting Crew—"Been In Love Before"
The second British band featured in the tour, Naked Eyes, also released its biggest hit in 1982, a cover of "Always Something There to Remind Me." Originally a duo, today Pete Byrne carries on the group's legacy of synthesized sound—they were one of the first groups to make heavy use of the effect.
Video: Naked Eyes—"Always Something There to Remind Me"
Matthew Morrison
with special guest Laura Benanti
National Symphony Orchestra
Steven Reineke, conductor
Thursday, July 10, 2014 at 8:15 p.m.
Matthew Morrison, famously known as Will Schuester on the FOX hit series Glee, will be accompanied by the National Symphony Orchestra as he performs a number of romantic standards and musical hits alongside Laura Benanti. Morrison got his start on Broadway and has appeared on stage in the musical productions of Footloose, Rocky Horror Show, Hairspray —originating the role of Link Larson—and received a Tony Award nomination for his portrayal of Fabrizio Nacarelli in Adam Guetel's The Light in the Piazza. He was the first artist signed to Maroon 5 group leader Adam Levine's 222 Records, with which he released Where it all Began in June 2013.
Video: Matthew Morrison—"It Don't Mean a Thing"
Tony Award-winning actress and singer Laura Benanti has received high acclaim for her Broadway roles including leads in Gypsy, opposite Patti LuPone, and Nine, opposite Antonio Banderas. She has recently appeared in NBC's The Sound of Music LIVE as Elsa Schrader and has a reoccurring role on HBO's Nurse Jackie.
Video: How Will Love Survive—The Sound of Music, LIVE Feat. Laura Benanti
Disney Fantasia Live In Concert
National Symphony Orchestra
Emil de Cou, conductor
Friday, July 11, 2014 at 8:30 p.m.
Saturday, July 12, 2014 at 8:30 p.m.
Enjoy a night under the stars as the NSO casts an enchanting musical spell on sorcerer Mickey and other cherished characters. For the first time at Wolf Trap, clips from Fantasia (1940) and Fantasia 2000 will be projected onto huge outdoor screens in-house and on the lawn, while Washington's own National Symphony Orchestra performs the live score. Disney's classic masterpieces feature vibrant animated interpretations of classical works by Beethoven, Debussy, Tchaikovsky, Stravinsky, and more.
Video: Disney Fantasia Live In Concert Preview
Jennifer Nettles
Special Guest:
Brandy Clark
Sunday, July 13, 2014 at 8 p.m.
Jennifer Nettles rose to fame as one half of the Grammy Award-winning country-pop duo Sugarland. In January 2014, she released her first solo album, My Girl, which quickly rose to the top of Billboard's Country Albums chart and was hailed as "earthly, warm and spacious" by Country Weekly. For her Wolf Trap debut, Nettles will perform fan favorites and hits such as "That Girl," "Me Without You," and "Stripes."
Video: Jennifer Nettles—"Me Without You" (live)
Rising star Brandy Clark received her big break as a songwriter for several country music legends including Reba McEntire, Miranda Lambert, LeAnn Rimes, Keith Urban, The Band Perry, and many more. Her 2013 album, 12 Stories released on Slate Creek Records, received critical acclaim from the likes of Rolling Stone, NPR, and the New York Post and has held positions on both the U.S. and UK Country music charts.
Video: Brandy Clark—"Stripes"
Tickets can be purchased by calling 1.877.WOLFTRAP or online at wolftrap.org.
For more information, call Wolf Trap at 703.255.1900.
Wolf Trap is Metro accessible!
Our environmentally friendly Wolf Trap Express Bus travels from the West Falls Church Metro stop every 20 minutes starting two hours prior to show time. For details, please visit wolftrap.org/Plan_Your_Visit/Access_by_Metro.aspx.