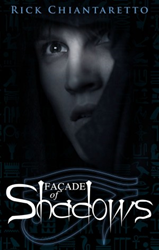 Rick Chiantaretto's novel Façade of Shadows brings supernatural beings of Egyptian lore together with modern-day vampire slayers to wage a pivotal battle against the dark powers of the underworld.
Salt Lake City, Utah (PRWEB) June 13, 2014
BernardBooks announced today that award-winning author Rick Chiantaretto, who only releases a book on Friday the 13th, has revisited his writing roots with his first novel Facade of Shadows and re-released the novel with a new blanket of edits since the book was fist discovered and released when he was in high school.
"This book was my high school novel that was picked up by a small press. Getting it published so young was really inspiring at that age. This novel is often a point of interest for teachers and educators, and inspiring to youth," said Rick Chiantaretto. "Since releasing my second novel, Death of the Body, a dark fantasy, my fans have clamored for more and so I decided to re-edit with a fresh face and re-release it, while maintaining the juvenile tone and feel to stay true to the young adult genre."
Facade of Shadows is available at Amazon.
Praise for Facade of Shadows
"Rick Chiantaretto might be a name new to you, but you will definitely run across his name again. An emerging writer who works with old myths and legends and folklore of a spiritual nature, Rick manages to weave entertaining and telling tales. Keep an eye out for Rick Chiantaretto." ~Nancy Kilpatrick, author of The Goth Bible: A Compendium for the Darkly Inclined.
"A unique and entertaining mix of classic vampire lore and Egyptology with a healthy dose of Buffy and Blade. From a small-town school to the middle of the Sahara desert and beyond, this ambitious and expansive novel will take you on a journey from normality to the edge of oblivion, and leave you gasping for breath." ~David Moody, author of AUTUMN and HATER.
Rick Chiantaretto's dark fantasy Death of the Body was chosen as one of Indie AuthorLands' "50 Self-Published Books Worth Reading" for 2013/2014.
About Facade of Shadows: In Façade of Shadows, the supernatural beings of Egyptian lore work together with modern-day vampire slayers to wage a pivotal battle against the dark powers of the underworld. A group of young slayers and their immortal Protector, the son of ancient gods, travel through time and space while struggling to save the population of an unsuspecting town—the first target for domination by the vampires—in a conflict that foreshadows the fate of the world. If you enjoy action, humor, tragedy, even romance involving the genre of vampires and their nemeses, this is a riveting read to add to your collection.
Rick Chiantaretto Bio (in his own words!): I've often been accused of having done more in my life than the average person my age but if I were completely honest, I'd have to tell you my secret: I'm really 392.
So after all this time, I'm a pretty crappy writer. I have two books published and a bunch half written (when you have eternity, where's the reason to rush?). I've been favorably reviewed by horror greats like Nancy Kilpatrick, and my how-to-write-horror articles have been quoted in scholarly (aka community college freshmen's) papers.
I enjoy the occasional Bloody Mary, although a Bloody Kathy or Susan will suffice. Mostly, I just try to keep a low profile so people don't figure out who I REALLY am.
About BernardBooks:
BernardBooks is a cooperative marketing company that aims to give all authors the marketing and exposure that their books deserve. BernardBooks brings authors together in a place where they can jointly promote and market their books. To contact a BernardBooks author or view their work please visit the BernardBooks website at http://www.bernardbooks.com.
-END-
For more information contact:
Michelle Cunningham
mcunningham(at)bernardbooks(dot)com
(801) 477-7858