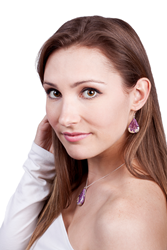 I've had great luck partnering with professionals in the wedding industry. My jewelry is really the perfect follow-up product for them to offer their customers.
Montreal, Quebec (PRWEB) June 25, 2014
Anna Van Tuinen is pleased to announce the June 25th public opening of her new affiliate program for wedding industry professionals and bloggers. This affiliate program promises to provide an excellent money-making opportunity for professionals in the wedding industry - allowing them to keep their relationship with their customers even years after the wedding.
Anna has found a special niche in the wedding industry, catering to spouses searching for the perfect first anniversary gift. "There's a tradition around anniversaries: you're supposed to give paper for the first anniversary, cotton for the second, and so on," explains Van Tuinen. "That's why I designed an exclusive line of jewelry made from exotic, rare papers from all around the world, to be the perfect first anniversary gift."
Anna has been making paper jewelry for years, but her business strategy changed in October when a customer commented, "I'm so lucky I found your paper jewelry - I can't wait to give it to my wife on our first anniversary." From that inspiration, Anna shifted her strategy, creating a new "Paper Anniversary" collection that offers a complete gift sets made from the highest quality papers that she personally sourced from Thailand, Japan and Italy.
Since opening her new online shop at http://paper-anniversary.com, business has been thriving. Anna has hired three new employees, and just moved to a new, larger studio in Montreal's famous Mile End district. Her main asset: a small network of affiliates in the wedding industry. "The biggest problem people in the wedding industry face is the fact that, once the wedding is over, you can't sell anything to your customers anymore," says Van Tuinen, "My affiliate program solves that problem. It's really the perfect follow-up product for them to offer their customers. They simply send an email to their customers one year after the wedding, and earn a nice commission by spreading the word of our jewelry." (There is an affiliate sign-up page on her site.)
In addition to expanding her jewelry workshop, Anna has also expanded into gifts for other anniversaries by creating The Anniversary Co. http://theanniversary.co with her partner Christopher Hendricks. The Anniversary Co. will complement her business at Paper Anniversary by Anna V by offering anniversary gifts for each anniversary beyond the first. She's helped to curate a selection of gifts made by artisans that she has been following for many years.
"There are so many talented artists working in Montreal and around the world that are waiting for a breakthrough to expose their products to the broader market. It's very rewarding to have a hand in helping them build their businesses by selling their products online," said Van Tuinen.
"I believe that celebrating your anniversary in a unique way, while following tradition, plays an important part in keeping your marriage strong. It's about reflecting back on the past year, and looking forward to the adventures that lie ahead. What I want to do with Paper Anniversary by Anna V and The Anniversary Co. is not just sell sunning jewelry, but help bring couples closer together."