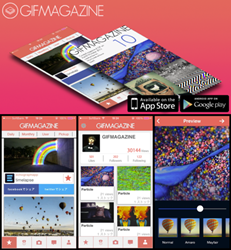 Tokyo, Japan (PRWEB) June 14, 2014
Creative Box, Inc. (CEO: Kensuke Oono, Head Office: Taito-ku Tokyo, Herein referred to as Creative Box) made GIFMAGAZINE, a platform for fans of animated GIFs to share and post creations, simultaneously available for Android and iOS.
GIFMAGAZINE is Japan's one and only service to date (June 14th, 2014) allowing you to post and share and play animated GIFs on Facebook and Twitter. What's more, it is also possible to convert Youtube videos to animated GIFs. GIFMAGAZINE's user base is not just made up of film makers, but also photographers, illustrators, other creative professionals, and all other people wanting to create animated GIFs with ease.
In recent years the popularity of animated GIFs has been widespread, and the word "GIF" was crowned USA Word of the Year for 2012. At London's contemporary art gallery, the Saatchi Gallery, an international animated GIF competition has also been held. GIFs, which enable people to enjoy seamless animation without clicking, are ideal for use on websites and with communication apps, and are used in fashion, art, politics, and many other fields. Through GIFMAGAZINE, a technology once thought of as outdated is coming into the spotlight again.
At Creative Box, our mission is to spread fun throughout the world, and provide a service that offers creative individuals a space to enjoy showcasing the creations; a space which could in turn lead to work.
About GIFMAGAZINE

Creative Box, Inc. Company Overview
Company Name: Creative Box, Inc.
http://creative-box.in/
Address: 3-16-6-903 Asakusa Bashi, Daito-ku, Tokyo
Founded: July 16, 2013
Representative: CEO Kensuke Oono
Operations: Web services、app development and operation, media writing for the web.