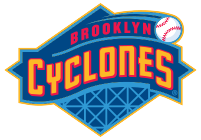 Brooklyn, NY (PRWEB) June 12, 2014
On a day in our nation's history that is forever connected to the sacrifices made by the members of the armed forces, the Brooklyn Cyclones have announced that they will partner with Rolling Thunder - NYC Chapters to have a Chair of Honor at MCU Park. The chair, which will be painted black and feature the POW / MIA emblem, will remain unoccupied in perpetuity in honor of the more than 80,000 American soldiers who have gone missing in action.
"As a nation, we are eternally grateful for the sacrifices the men and women of our armed forces have made, and continue to make, so that we can enjoy the freedoms that come with being an American," said Cyclones Vice President Steve Cohen. "This is our organization's way of showing that their sacrifices will never be forgotten."
The seat, which will be located in the first row of section seven, will be unveiled in a pre-game ceremony prior to the July 4 game against the Aberdeen IronBirds.
"We are thrilled to be partnering with Rolling Thunder for this endeavor," said Brooklyn Cyclones Account Executive Angelina Tennis, whose husband is an Army veteran that served in Iraq and Afghanistan as part of a POW / MIA task force, and is heading this project for the Cyclones. "I have a personal connection to the POW/ MIA cause, so I'm especially proud that our organization is the first team in New York City to join with Rolling Thunder for this project."
Rolling Thunder is a not-for-profit organization that focuses on POW / MIA initiatives. With over 90 chartered chapters across the United States, Rolling Thunder looks to educate the public about the tens of thousands of men and women unaccounted for in past conflicts, while also aiming to protect future veterans from being left behind. The addition of the Chair of Honor at MCU Park is another step towards the Rolling Thunder's goal of having a POW / MIA chair in every professional sports venue across the United States of America.
The Brooklyn Cyclones are a short-season Class A affiliate of the New York Mets. The Cyclones play at MCU Park, in the heart of Coney Island. Last year, the team led the New York-Penn League in attendance for the 13th consecutive season and the franchise has welcomed more than 3,500,000 fans to the ballpark since its inception. The Cyclones have also advanced to the postseason nine times, winning a league championship in 2001 and a total of five McNamara Division titles.