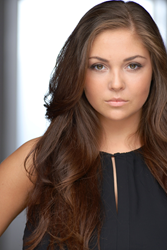 The goal of this film is to try and educate the teenage girls out there who are the most vulnerable.
Hollywood, CA (PRWEB) June 12, 2014
It's true, the beautiful Bulgarian born actress, who now resides in Los Angeles, is in high demand these days and as one could can imagine, she is overwhelmed with all of the attention.
"This is a dream come true," said Milev. "I can't believe all of this is happening to me, this is exactly why I moved to Los Angeles, to pursue my dreams of acting in Hollywood."
Like many actors in Hollywood, Milev's rise to fame began with a series of short films, all of which served as the springboard for one of Milev's latest projects.
Recently, the talented actress landed the lead role in an upcoming feature film with the working title, "Anthony Cohen Project." The film centers around a task force aimed at ending human trafficking.
As can be imagined, it is a very challenging role that requires an incredible range of emotions and deep character building. However, that did not deter, nor intimidate Milev, who believes in the film's message and its importance to society.
"The goal of this film is to try and educate the teenage girls out there who are the most vulnerable," said Milev. "The girls who come from poverty and feel helpless."
Dessler Media has announced that they will now Co-Produce the film that is currently in production with a release date to be announced soon.
Right now, Milev is very excited to be writing and directing her own film, under the working title of, "Monica."
"Monica is my baby," laughed Milev. "I am so blessed and honored to be collaborating with an amazing team for this project."
"The film will feature a very famous Italian Actor, whose name I can't reveal right now, you'll just have to stay tuned for more details."
"Monica" is currently in pre-production and the film will begin shooting in Los Angeles later this summer.
And it doesn't stop there… Hollywood's new acting sensation will be reviewing more scripts with her agent in the upcoming weeks.
Milev is a graduate of New York Film Academy's Acting for Film craft program, and served as a Radio Host for four years in her native Bulgaria.
The Bulgarian beauty anticipates making an announcement soon regarding another project scheduled for October/November.