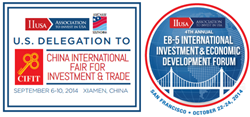 IIUSA's goal is to provide a platform for EB-5 stakeholders from across the world to discuss important industry issues like due diligence, industry education and transparency in the marketplace.
Chicago, IL (PRWEB) June 16, 2014
The Association to Invest in the USA (IIUSA), the national not-for-profit industry trade association for the EB-5 Regional Center Program (the "program"), held its annual membership meeting in tandem with its 7th Annual EB-5 Regional Economic Development Advocacy Conference in Washington, D.C. from May 7-9. The 400+ attendees at the sold-out conference were treated to eight panels, three congressional Guest of Honor Speakers, keynote addresses from individuals representing five federal agencies/regulators, special guests from the American Chambers of Commerce in Shanghai and South China as well as the U.S. Chamber of Commerce, and a special ceremony with eight Chinese provincial level entry-exit Associations in which IIUSA signed joint Memoranda of Understanding (MOUs). The attendance at the 2014 conference was IIUSA's largest in event history, representing a more than 90 percent growth since its most recent conference in October of 2012.
"This year's EB-5 Advocacy Conference brought together global investment and economic development professionals for a week of EB-5 grassroots advocacy, advanced education and business development," said IIUSA Executive Director Peter D. Joseph. "Our events in the second half of 2014 will continue in pursuit of IIUSA's goal to provide a platform for EB-5 stakeholders from across the world for discussing important industry issues like due diligence, industry education and transparency in the marketplace."
IIUSA-led Trade Mission To the China International Fair for Investment & Trade (CIFIT)
From September 6-10, IIUSA will lead a delegation of its members to take part in the China International Fair for Investment & Trade (CIFIT) – the largest international fair in the world focused on foreign direct investment. This will be the second year in a row that IIUSA will partner with the American Chamber of Commerce (AmCham) South China to co-host the USA pavilion. Last year, over 115 IIUSA members joined a U.S. delegation of over 300 representatives and 50 exhibitors.
Over the course of the four-day conference, which includes a first-class exhibiting experience and several exclusive cocktail receptions, IIUSA will organize seminars and meetings to continue the important dialogue among EB-5 stakeholders. On September 8th, IIUSA will convene an intimate meeting in which Chinese migration intermediaries and IIUSA members (one representative per organization) will examine pertinent issues such as securities laws and execution of the Entry/Exit Associations' MOUs, USCIS policies, retrogression scenarios and the legislative outlook for 2014 and beyond. IIUSA will also host a bi-lingual EB-5 Seminar open to the public featuring speakers from IIUSA leadership, AmCham South China, Entry-Exit Associations, and guests of honor. This year's seminar, presented in partnership with Fujian Entry-Exit Association, will highlight the international relationships that have been forged over the past year and will also feature practical examples of EB-5 success resulting from effective cross-pacific partnerships.
4th Annual IIUSA EB-5 International Investment & Economic Development Forum
IIUSA's final event of 2014, the EB-5 International Investment Economic Development Forum from October 22-24 in San Francisco is expected to be the largest EB-5 Conference of the year with over 600 people attending three days of exhibiting, six keynote speakers and panels, 10 "breakout sessions" and two entertainment-packed evening receptions. Additionally, there will be a special "kick-off" event which will allow attendees to see the beautiful San Francisco landscape in style and celebrate the coming together of old and new friends. Host city sponsors and other local members will be offering tours and special events to attendees to bring the EB-5 Program to life through project site visits and local fare.
"With the help of our members, event sponsors, the forum committee and other EB-5 stakeholders, IIUSA will invite international partners to join this conference in kicking off a tour of EB-5 project site visits in the U.S.," said Mr. Joseph. "We believe there is immense power in having all corners of the industry come together under one roof to build relationships, share knowledge and then put industry best practices to work by performing EB-5 due diligence with site visits to projects around the country."
Early-bird registration for the CIFIT Trade Mission and EB-5 International Forum will end July 15th and July 31st, respectively. To learn more about exhibiting and sponsorship opportunities for these upcoming IIUSA events, visit the IIUSA Marketplace.