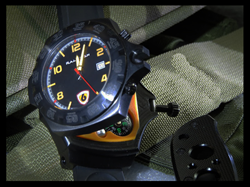 "Rugged as it is Useful. Tough as it is timeless. I designed the Recon 6 Watch to keep pace with the Outdoor Adventurer and Survival Enthusiast. In a class of its own, Recon 6 is redefining the meaning of hand tools." Support us on Kickstarter.
AZ (PRWEB) June 12, 2014
Renowned survival expert Tim Ralston has unveiled his latest product, the Recon 6 Watch, a multi-faceted utility watch. After spending two years in research, development and testing, Ralston kicked off his crowdfunding campaign on Kickstarter to launch this product into the market.
The roll out of the first wrist watch in the adventure and survival line will feature a robust, durable design with an aesthetic inspired by the spirit of the greater outdoors. The adventure watch was developed with function in mind to deliver solutions that are vital for outdoor survival situations. A desirable timepiece for any adventurer, the full-featured Recon 6 Watch includes a scratch and chip resistant mineral glass face, phosphorescent hour and minute hands, a rotating bezel ring, and enhanced date window. Concealed within the wrist watch is a compass, a can & bottle opener, a fishing kit, a signaling mirror, a fire starter, a whistle, a signal flare band and an inconspicuous cutting tool.
"I created the Recon 6 Watch to tackle the unexpected and perform multiple tasks," Ralston says on the Kickstarter page. "Inspired by the desire to always be prepared, a cross between the Swiss Army Knife and MacGyver will take this multi-featured outdoor watch to a whole new level. The survival watch contains vital items that will come in handy when you need them the most and could potentially save your life. After months of hard work, my idea is almost ready to become a reality."
Tim Ralston's survival and outdoor gear company, Recon Innovations, partnered with the talented design team at Smith & Bradley of Chicago Illinois to develop a line that would translate the brand equity Ralston has earned in the outdoor industry into the watch instrument industry.
"It is clear that the Recon consumer is looking for much more than the time of day. This consumer wants relevant, innovative solutions that bring value to their pursuit of the greater outdoors and survival strategies," said Jerommie Smith, co-founder of Smith & Bradley. "We are confident that this line will resonate with Recon's targeted consumer."
The initial launch will consist of the first style of Recon watches, available at Kickstarter on June 2014, then online at http:// GearUpCenter.com.
###
About Tim Ralston
If there is one thing Tim Ralston positively excels at doing, it's crafting multi-purpose products you can rely on. With an eye for function and form, Ralston, is in fact the creator of some of the most impressive multi-function tools out on the outdoor and survival market today, including the Crovel Multi-tool Shovel, NAX Knife/Axe and X Caliber Shotgun Adapter System. His innovations are known for performing numerous hardcore jobs, all while taking up limited space. Created from his military and adventure experiences, many of his innovations have received worldwide attention as the best self-reliance/outdoor multi-tools in the industry. Ralston entered the media spotlight as an international spokesman for a series on preparedness, which is now the #1 series on the National Geographic network. Tim's footprint in the outdoor and survival gear industry also gained him expert appearances on the History Channel, news cast networks and other International shows propelling his brand globally. Ralston continues to share his philosophies on self-reliance and preparedness education through local and international media venues.