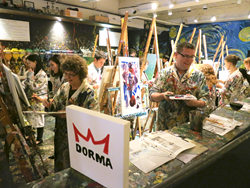 Warming to the spirit of the occasion, participants developed an intriguing collection of accomplished paintings.
Vancouver, BC (PRWEB) June 12, 2014
DORMA's Vancouver Reception Features Architectural Divider Products for Western Canada Markets
DORMA, an international manufacturer of premium access products and solutions, spotlighted an expanded presence for its lines of architectural dividers in Western Canadian markets June 10th with an unusual reception at the Raw Canvas restaurant in Vancouver. Participants had the opportunity to display their creative prowess, spontaneously producing their own striking works of art.
Leading designers from many of Canada's top firms joined Julie Ireton, DORMA's Western Canada regional business manager; Lida Mosadegh, regional marketing manager; and specification writer Joe Hiscock for the event. Among the dividers featured were moveable partitions in glass and other materials, as well as interior glass wall systems.
The unique ambiance of Raw Canvas, which encourages guests to create their own paintings in a fully equipped studio area, was particularly appropriate for this gathering of design experts. Warming to the spirit of the occasion, participants developed an intriguing collection of accomplished paintings. The works produced by the guests will be donated to charity.
DORMA's extensive line of architectural space dividers includes interior glass partitions, horizontal sliding walls, pivoting systems and more, all complemented by a wide range of accessories and specialty hardware to fit virtually any installation or design requirement. Elegant and contemporary, architectural dividers and partitions in the DORMA portfolio are suited to the widest possible range of modern designs. They confer particular benefits of convenience, visibility and versatility, while helping maintain excellent levels of sound control.
For more information, contact Lida Mosadegh at 778-919-3987 or lmosadegh(at)dormacanada(dot)com.
About DORMA
DORMA is a leading global manufacturer of premium access solutions and services that enable better buildings. A full range of products and services provides safety and security as well as convenience and comfort. DORMA features a design oriented portfolio of architectural door hardware, specialty hardware for glass door and wall applications, door automation systems including Crane Revolving Door, and operable wall systems featuring Modernfold. Strategic partnerships with technology innovators RCI and Farpointe Data extend DORMA's portfolio of electromechanical access control products and systems, and strengthens the presence of both firms in the North American market. DORMA is an international market leader with innovative and inspiring design and technologies for access solutions and services.