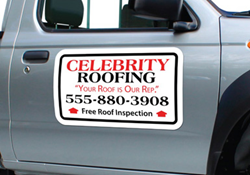 Thinner is stronger.
(PRWEB) June 13, 2014
Grand Image Inc. is now offering a higher power version of an industry standard. Hi-power vehicle magnets have made a major impact recently with Grand Image Inc. clients.
Designed for a variety of outdoor applications - car signs, bus signs, and large truck signs - this higher performance product provides more powerful anti-sticking and weatherproofing properties than the standard 30 mil magnet.
Standard vehicle magnets are at a 30mil thickness, making them heavier to ship and more difficult to cut to size. The Hi-power magnet offered by Grand Image Inc. is at a 20mil thickness, making it 30% lighter and thinner than the standard 30 mil. These features allow for savings on shipping and freight as well as flexibility that contours to the application.
Thinner is stronger. The 20mil product offers a holding force of 82 pounds per square ft., compared to 70 pounds per square ft. of the standard 30mil magnet. Plus, it can be printed seamless up to 24" in width giving a variety of size options.
"We never realized how many of our clients were in need of this type of product. Our mission has always been to make our clients look good to their customers. Being able to offer such a great solution to their needs encourages us to keep looking for additional services and items to support their growth," said Margaret Vosburgh, Marketing and Communications Associate.
The grand format printing company is also known for its extensive list of products and services that includes large format roll-to-roll graphics for billboards, trade show displays, transit graphics, banners, posters, and fabric graphics. Grand Image Inc., Inc. works with resellers of large format digital products. The company is based in Hudson, Massachusetts.