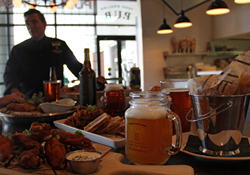 I've always been a big believer in taking advantage of what the local market has to offer and giving guests the opportunity to have an authentic experience.
Birmingham, Alabama (PRWEB) June 25, 2014
Todd English P.U.B Birmingham has updated it's menu to include succulent Southern favorites. Since opening one year ago in Uptown Birmingham, P.U.B. (which stands for Public Urban Bar) has become one of the most popular destinations for hungry locals looking for tasty food, craft beers and a fun, casual atmosphere. This second outpost for the concept eatery features the same eclectic mix of traditional American comfort foods and modern interpretations of traditional English pub fare available at its original location at Crystals CityCenter in Las Vegas.
English has updated the P.U.B. menu with new items that are more in line with the tastes and culture of the local demographic.The move has allowed P.U.B to introduce local fish and produce along with a sprinkling of regional Southern favorites.
"I've always been a big believer in taking advantage of what the local market has to offer and giving guests the opportunity to have an authentic experience," says English. "Since we opened last year, this place has been about helping locals and tourists alike enjoy a unique pub setting. New Southern-style options like deviled eggs and shrimp and grits help make P.U.B. Birmingham a real Alabama destination. I really wanted patrons to feel that they can come here and feel right at home."
Other additions to the menu include pan-roasted salmon served on a bed of black-eyed peas, chicken and waffles served with maple soy brown butter, and a chopped Southern salad with roasted corn, black-eyed peas, leeks and pepper.
The menu still features items that P.U.B. has become known for like crispy fried oysters, lobster rolls, roast beef sliders and fish and chips. Also on tap is an extensive collection of craft beers, national and international wines and beverages including mead, cask ale, Trappist beer and handcrafted beer cocktails. Todd English P.U.B Birmingham also features all-day, $2 oysters, a daily Happy Hour from 3 to 6, and brunch on Saturdays and Sundays.
Known as much for his charismatic good looks as he is for numerous forays into television, the multi-James Beard Award-winning chef has steadily established himself as one of the world's most successful restaurateurs. His numerous establishments enjoy such glamorous locales as New York City, Boston, Palm Beach and Mexico City, where his tantalizing cuisines offer an eclectic range of dining options. The Todd English P.U.B in Birmingham is his first venture into the Deep South, and is the second location for the popular restaurant, already a favorite to visitors of Las Vegas.
Todd English P.U.B. Birmingham is located at 2221 Richard Arrington Jr., Blvd. N, in Birmingham's Uptown Entertainment District. The restaurant is open Sunday- Thursday from 11 am to 10 pm, and Fridays and Saturdays from 11 am - Midnight. Breakfast is served daily from 6:30 am-10:30 am, and Brunch is Saturdays and Sundays from 6:30 am to 3 pm. Happy Hour is from 3pm-6pm daily. For reservations, call 205-307-3700. For menu and information, please visit toddenglishpub.com.
About Todd English:
Todd English is a renowned chef, restaurateur, author, entrepreneur, and television personality based in Boston, Massachusetts and New York City. He is a four-time James Beard Award winner and inductee into the James Beard Foundation's "Who's Who in Food and Beverage in America." He is the CEO of Todd English Enterprises which owns, manages and licenses over 20 restaurants worldwide including Olives, Todd English Food Hall, Todd English P.U.B., Figs, BlueZoo, Ça Va, Todd English Restaurant and Tuscany. For more information on chef Todd English and his restaurants please visit his website at http://www.toddenglish.com. Or, follow him on Facebook – http://www.facebook.com/ChefToddEnglish and on Twitter- @ChefToddEnglish