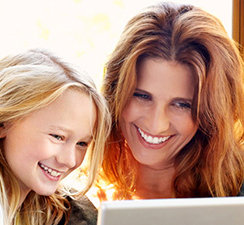 ParentShare enable expenses traditionally allocated to printing costs to be reallocated and reinvested.
Center Valley, PA (PRWEB) June 16, 2014
SRC Solutions, a leader in online registration and business process improvement, is excited to announce the launch of ParentShare Gateway, an electronic document delivery system that enables parents and school administrators to communicate in a secure environment. By using ParentShare Gateway, administrators can deliver important documents – report cards, progress reports, schedules, test scores and permission slips – through a secure, online platform or email.
"Districts are continually being asked to do more with less," said Patrick Maher, Founder and CEO of SRC Solutions. "ParentShare Gateway not only encourages ongoing communication between parents and teachers, it enables districts to automate and simplify traditional methods of communicating with parents. This automation enables the expenses associated with printer paper, toner, envelopes, stamps and labor to be reallocated and reinvested in new technologies that better serve schools' most important constituents – its students."
Designed to work within a school's existing process, ParentShare Gateway provides several benefits for administrators, teachers, parents and students alike, including:

Enhanced communication between administrators, teachers and parents. With secure, password-protected access to report cards, progress reports and more, parents stay informed of their child's progress throughout the school year.
Cost savings. ParentShare Gateway makes it easy for school districts to switch from manual student document delivery to the electronic system, allowing for immediate cost savings. Time and money spent printing, folding, stuffing, mailing and more are eliminated, allowing ParentShare Gateway to be funded through existing budget items.
360-degree, lifetime view of student records. ParentShare Gateway makes it possible for parents and students to access student files from years prior, in addition to current information – and they're all stored in the same place.
About SRC Solutions
With more than 7 million enrollments processed each year for schools, businesses and governments, SRC Solutions is the global leader in online registration. Founded in 2001, the Pennsylvania company is a Service-Disabled Veteran-Owned Small Business (SDVOSB) and specializes in identifying cumbersome, repetitive and counter-productive work practices and replacing them with easy-to-use, innovative digital processes. Its flagship solution, Registration Gateway, enables K-12 schools to save time and money by leveraging paperless enrollment, downstream reporting, compliance and document tracking. The company's full suite of K-12 products, which includes School Choice, Discipline Gateway and ParentShare Gateway, integrate seamlessly with popular school information systems to provide process and workflow solutions for districts of any size.
As a XEROX® Platinum Partner and an authorized reseller for Kofax, Surety and Recruit Manager, SRC provides solutions for both the public and private sector, including document management, workflow improvement and integration into numerous ERP systems. SRC Solutions: Breaking the boundaries of paper.
For more information, visit http://registrationgateway.com/products/parentshare-gateway/.