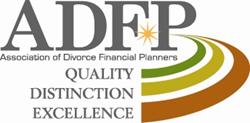 "This Board, representative of various professional backgrounds and geographical locations, is perfectly poised to lead the ADFP into an exciting new era." ADFP President Andrew Samalin
EAST NORTHPORT, NY (PRWEB) July 15, 2014
The Association of Divorce Financial Planners (ADFP) held its Annual Membership Meeting on Tuesday June 3, 2014. At the meeting, nine members were unanimously elected to serve on the ADFP Board of Directors: Bob Bordett of Collaborative Practice and Mediation Services, Inc., Atlanta, GA; Chris Chen of Insight Financial Strategies, LLC, Arlington, MA; Jodi D'Agostini of Rich Planning Group/AXA Advisors, Morristown, NJ; Jennifer Failla of Strada Wealth Management, Miami, FL; Cheryl Glazer of Cheryl S. Glazer, Narberth, PA; Lori Lustberg of Lori Lustberg, Esq. LLC, Shelburne, VT; Ivy Menchel of Family Wealth Planning Partners, New York, NY; Peggy Tracy of Priority Planning, Wheaton, IL; and Sandy Voit of Tangible Solutions, Inc., Kirkland, WA. The Board has additional members who will be continuing their terms: Jerry Cohen of Financial Solutions for Divorce, Westlake Village, CA; Ken Neumann of the Center for Mediation & Training, New York, NY. Carl Palatnik of Divorce Analytics, Inc., Melville, NY, will continue Board service as Founding President Emeritus; and Lili Vasileff of Divorce and Money Matters LLC, Greenwich, CT, will continue Board service as President Emeritus.
Following the general election, the ADFP Board of Directors elected Andrew Samalin of Samalin Investment Counsel, LLC, Chappaqua, NY, and Amy Whitlatch of Amy L. Whitlatch, CFP®, CDFA™, Cincinnati, OH, to continue to serve as President and Secretary, respectively. In addition, Mike Bean of Divorce Sense, LLC, Atlanta, GA, was elected to the office of Treasurer.
ADFP President Andrew Samalin stated: "The ADFP is grateful to have each of these highly qualified individuals serve on the Board of Directors. This Board, representative of various professional backgrounds and geographical locations, is perfectly poised to lead the ADFP into an exciting new era." Samalin adds, "The divorce financial planning profession is on the cusp of explosive growth, as attorneys, mediators, divorcing individuals, and the general public, are becoming more aware of the indispensable value of divorce financial planning as an integral part of the divorce process."
The ADFP is an interdisciplinary association of professionals who research and analyze personal and business financial issues, as well as tax implications, related to divorce. The Association develops outreach programs, and training and continuing education opportunities for financial practitioners, allied divorce professionals and the general public. The organization plays a key role in policy making regarding divorce financial issues. The ADFP holds its members to high standards in professional and ethical protocols in the U.S., Canada and other countries. Comprehensive information on the ADFP's website.