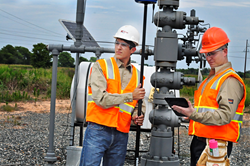 The Woodlands, TX (PRWEB) June 16, 2014
Landpoint is currently expanding its professional staff across the nation. The continued expansion of the companies land surveying services, especially in West Texas, has prompted a need for more than 35 new professionals. The surveying and engineering company is looking to fill all of these positions by the end of July, at which point a new round of hiring will begin.
The increased demand comes from new and existing customers providing more projects to Landpoint and its subsidiaries across the nation. Currently, The Company is looking to fill a number of roles to help further this expansion. The open positions are located at Midland, Victoria and The Woodlands, in Texas; Windsor, Colorado; Bossier City, Louisiana; Columbus, Ohio; Pittsburgh, Pennsylvania, and multiple locations in South Arkansas.
Some of the roles Landpoint is looking to fill include licensed land surveyors, project managers, project coordinators, crew chief / party chiefs, drafters, instrument men, and rodmen. The company is looking for individuals who are skilled in the surveying profession, possess a high degree of experience in oil and gas related activities, and are able to work well in a team oriented environment.
Those who are interested in viewing the open positions can do so at Landpoint's career opportunities page.
Whether customers need land surveying, engineering support, high definition scanning, GIS mapping, or environmental support, there's no job too large or too small for the surveying division at Landpoint. The company's skilled professionals work in a wide range of markets such as oil and gas, energy, transportation, and commercial construction.
About Landpoint
Landpoint is an award winning firm that performs land surveying and engineering services for oil and gas, transportation, commercial land development, and residential real estate companies. The company also provides consulting, GIS mapping and laser scanning. The value added services and solutions offered by Landpoint are unmatched in the industry, allowing customers to realize significant time and cost savings.
To learn more about Landpoint's services in west Texas and around the country, visit http://www.landpoint.net.