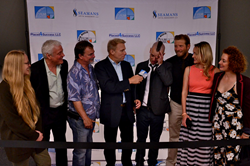 We didn't think the night could get better than the day, but it did! Thank you New Media Film Festival. @DavidCBarry
Hollywood, CA (PRWEB) June 12, 2014
And The Winners Of The 5th Annual New Media Film Festival Are...
CURIO SHOP - PILOT - GRAND PRIZE WINNER
Dir. 2 X Emmy Winner Eric S. Anderson
Starring Scott Crane
USA 18:11 World Premiere
A Post Apocalyptic Acid Western.
Everything and everyone in this world is broken…. Even time.
BLANK - A VINYLMATION LOVE STORY - BEST ANIMATION
Dir. Kristen Beissel
USA 37.28
Based on the popular Disney Parks Vinylmation collectible franchise, a stop-motion animated film that tells the story of Blank, an unpainted Vinylmation, on an journey through an original new world to find his lost soul mate. Blank is an epic adventure in miniature scale, a completely original, heartwarming love story filmed entirely in practical stop motion.
RUN CHICKEN RUN - BEST NEW MEDIA SCRIPTS
Written by Eric Vasallo
A champion cock fighting Rooster gets smuggled out of Cuba by his handlers and 'El Diablito' (the Little Devil) wreaks havoc, highlighting the cultural rifts between neighbors on an unsuspecting middle class Miami neighborhood
Jared Wynn of Ink Tip (L) Announced Winner
PUNKY DUNK - BEST APP
Dir. Katllyn Llewellyn
USA 1:00
Matthew Modine and Kate del Castillo voice this intimate, century-old tale of a curious cat in English and Spanish. Help the gold fish teach Punky a valuable lesson in this sweet, hand-drawn homage to a lost centennial classic.
Matthew Modine accepting.
SCISSR - BEST LGBT
Dir. Lauren Augarten
USA 9:40 World Premiere
Four 20-something lesbians from very different backgrounds are navigating life & love in Brooklyn NY which isn't easy. But when they meet through an iPhone app, the girls realize they have much more in common than they thought.
SUBWAY STORIES - BEST WEB SERIES
Dir. Garine Tcholakian
USA 5:01 World Premiere
In a rat race world, street musicians are mental magicians-the modern minstrels of our time-who remind us daily, if only for a few moments as we rush by, what it is to be human again. Shot on Canon 5D
THE STORY OF M - BEST STUDENT
Dir. Viktor Lurkov
Russia 22:21 LA Premiere
She smiles like Marylin she walks like Marylin she even dresses like Marylin. A chance encounter at a second hand store - and the world of dreams is crushed by reality. Shot on Canon Mark II
TINSEL'S TOWN - BEST SNIPLER - 30 SECOND PITCH
Dir. BAFTA Winner Michael Lindsay-Hogg
USA 0:30 World Premiere
Tinsel, an outwardly confident but secretly insecure LA actress, makes a bid for fame & attention via her own YouTube channel.
WHY WE RIDE - BEST DOCUMENTARY
Dir. Bryan H. Carroll
USA 1:29:00
An inspiring adventure into the world of motorcycling, told by the famous racers, passionate riders and everyday families who live each day to the fullest on their two-wheeled machines. Shot on Canon C300 and Canon C500.
MY KIND OF FREE BY JP HOPFELT - BEST MUSIC VIDEO
PRODUCER/CO-WRITER JIMMY STEINFELDT (ON LEFT)
Matthew Modine (on right) congratulating him.
Dir. Rainer Lipski
J.P. Hopfelt & The Stars Band
USA 3:23 World Premiere
Shot on Canon 5D II, GoPro, IPhone 5
BEST 3 D - APP THE MOVIE
BEST MACHINIMA - THE DRAX FILES
BEST PILOT - ANA MEAD
BEST S.T.E.A.M. WILDFIRE
BEST DIGITAL COMIC - GENERATION WAR
BEST NEW MEDIA - WARSAW
BEST SRC - Socially Responsible Content - WE HEAR YOUR VOICE
BEST TRAILER - ANITA- SPEAKING TRUTH TO POWER
Full details of their content are here http://www.newmediafilmfestival.com/schedule/ and scroll the appropriate title by category.
New Media Film Festival is a global community of creative artists and story lovers, it s about people, for people.
Save the Dates June 9 & 10 2014 at the Landmark 6th Annual New Media Film Festival.
Official Announcement - 2015 Call For Entries http://www.eventbee.com/member/NewMediaFilmFestival/event?eventid=160204163.