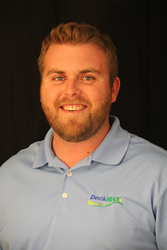 David Foulke, Application Manager at DeckMAX says, "Give Dad a gift he's sure to love! Call the DeckMAX service team and surprise him with a clean and revitalized deck."
Plymouth Meeting, PA (PRWEB) June 12, 2014
There's no better way to spend the day than with the guys in a man cave. But in the Summer months, the deck is a perfect Summer Man Cave. Even though a deck can be fixed up any way, there are only three necessary things one must have.
GRILL
A Summer Man Cave isn't complete without a grill. Whether a small charcoal model or a gas grill with all the bells and whistles, there are a few things to know about a grill.

Grate Size: Be sure the grill grate itself has thick tines. This will allow the heat to properly heat the grates, enabling the metal to cook the food, as well as the heat from the flames. It also helps from losing any food from between the grates.
Clean and season the grill. If you forgot to clean the grill after the last cook-out, that's ok. Simply heat the grill for 5-10 minutes, open the lid, use a grill brush to scrape off the debris and soot. Then use a grill rag (old towel is fine) and spray the rag and grill with oil. Ideally, vegetable oil. Rub down the grill with the oil and rag for optimal cooking. Do this before every grilling session.
Have everything in place. Think before – during – after.
o Before: Prep all the food before putting the food on the grill.
o During: All that's needed to cook are 2 heavy-duty metal tongs, a long and a short one, and a strong spatula. Don't play with the food. Layout the food efficiently on the grill and only move the food as needed.
o After: Have clean serving dishes in place so cooked food can be easily transferred.
When the guys come over, cook up some hearty brats, juicy steaks or mouth-watering burgers and watch the game!
SEATING
Family and friends will want to relax while drinking beer and waiting for the steaks to cook. Wrought iron furniture is sturdy and will hold up to the largest and rowdiest friends. They can be as messy as they want, because after the party's over, easily wipe off wrought iron furniture with DeckMAX Metal Revitalizing Wipes.
CLEAN DECK
To keep the deck, or summer man cave ready for the guys, restore it with DeckMAX PVC Deck Revitalizer. This product removes stains and minor scratches and brings back the luster and shine on PVC decks worn by fading and weathering. Don't have a PVC deck, but want to clean off mold, mildew, and ground in dirt, then use the DeckMAX Pro-Grade Cleaner.
FATHER'S DAY IDEAS:
Happy Father's Day! To honor dads, DeckMAX is offering free shipping! Use Promo Code: father - Offer valid June 9 - 21, 2014.
David Foulke, DeckMAX Application Manager says, "Give Dad a gift he's sure to love! Call the DeckMAX service team and surprise him with a clean and revitalized deck. A thorough cleaning and application of our E2 PVC Revitalizer will bring back the luster and shine. With DeckMAX, we'll maximize the beauty of Dad's Deck!"
To schedule a DeckMAX service call as a Father's Day gift or to prepare for a Graduation party, call 888-219-9411 to ensure we cover the service area.
###
DeckMAX is the nation's best deck cleaner and deck cleaning service. Customers, deck manufacturers, contractors and distributors prefer DeckMAX to help restore a deck and reverse the effects of fading, weathering, stains, minor scratches, scuffs, mold and mildew. DeckMAX deck cleaning products and services help to improve your home's deck, patio, porch, fence, railings, and even docks.