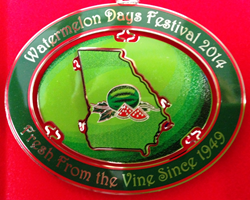 Cordele, Georgia (PRWEB) June 17, 2014
Individuals from Easter Seals Day Solutions and staff presented the 2014 Watermelon Festival ornament at the courthouse in Cordele on Friday June 6th. Employees, Julie Hall and Stacie Hamsley, presented this year's ornament to Crisp County Chamber of Commerce president Monica Simmons.
The ornament is inscribed with the theme "Fresh from the vine since 1949" since June 2014 will mark Cordele's 65th year celebrating the summer harvest with the Watermelon Days Festival. To purchase the ornament contact the Crisp County Chamber of Commerce at 502 South 2nd Street Cordele, Georgia 31010; website: http://www.cordelecrispga.com; phone: (229) 273-1668.
Easter Seals Southern Georgia has participated in 4 Watermelon Festival ornaments in the past. A few of the 2012 and 2013 ornaments are still available to anyone who is interested. Contact Easter Seals Southern Georgia at 229-439-7061 to purchase these past ornaments.
Easter Seals Southern Georgia creates solutions that change the lives of children, adults and families with disabilities or special needs by offering a variety of programs and services that enable individuals to lead lives of equality, dignity and independence. For more information, visit us online at http://www.southerngeorgia.easterseals.com or call us (229)439-7061.