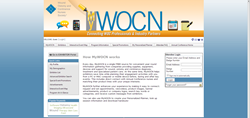 Last year attendee and exhibitor use of MyWOCN was remarkable with 74% of attendees logging in to use MyWOCN.
Columbia, MD (PRWEB) June 13, 2014
a2z, Inc., the Maryland-based event management software company, announces that the Wound, Ostomy and Continence Nurses Society™ (WOCN®) is leveraging a suite of solutions from a2z to offer time saving and planning tools to their attendees and exhibitors for the upcoming 46th Annual Conference. The annual conference is designed for attendees to learn from industry leaders as they develop new skills and network with fellow WOC professionals. This year, the annual conference will take place in Nashville, TN on June 21-25, 2014.The WOCN® Society is experiencing great success with the online networking solution MyWOCN that is powered by a2z. MyWOCN is an integral part of the upcoming annual conference, allowing exhibitors to showcase their products and services via online eBooths and attendees to book appointments with exhibitors through the online matching and networking solution. Last year, attendee and exhibitor use of MyWOCN was remarkable with 74% of attendees logging in to use MyWOCN. Exhibitors received on average 28% of their pre-show leads from MyWOCN.
In addition to exhibitors having the opportunity to create eBooths, MyWOCN matches them with registered attendees who indicate interest in the exhibitors' product categories. Exhibitors can directly connect with attendees matched with them by the system via direct emails and appointment scheduling tools.
When attendees log in to MyWOCN, they are greeted with various planning tools designed to help attendees be more productive while on site. Attendees are able to search for exhibitors by keywords and products, create a list of their favorite exhibitors, and directly contact these exhibitors to schedule onsite meetings. Attendees can then build a personalized itinerary consisting of sessions they want to be sure to attend, as well as a list of their favorite exhibitors and a calendar of exhibitor and personal meetings.
The planning and networking tools offered in MyWOCN are also available while on the go with the MyWOCN mobile app. The a2z-powered WOCN® Society mobile solution syncs in real-time with the event website, providing exhibitors and attendees an enhanced event experience. The mobile app is available for iOS and Android devices as well as all internet-enabled smartphones. Participants can download and access the Mobile App here.
In addition, the WOCN® Society native mobile app allows attendees to tag their favorite exhibitors, request meetings and add exhibitors' booth locations to their personalized walking maps showing the best route to the exhibitor's location. They can also download session handouts and make personal notes as they attend each session and network with exhibitors on the exhibits floor. Users can keep all of their conference meetings and appointments in one place with the personalized itinerary tool.
To learn more about WOCN® Society's 46th Annual Conference, please visit http://www.wocnconference.com. To network with exhibitors and build your own personal conference itinerary, please visit MyWOCN.
About a2z
a2z, Inc. provides powerful web-based event management tools that grow your show by increasing and accelerating booth sales, helping boost revenue, and enhancing engagement and value for everyone. a2z, Inc. powers more than 850 leading events every year. Our clients benefit from increased connectivity with their audience via an improved website for their attendees and exhibitors and both web-based and native mobile app solutions. a2z offers three platforms as one integrated solution: Expo & Conference Management, Networking & Lead Management, and ChirpE Mobile- which includes our web-based and native mobile apps for smart phone and tablet devices. http://www.a2zinc.net
About the WOCN® Society
Founded in 1968, the Wound, Ostomy and Continence Nurses Society™ is a professional, international nursing society of 5,000 health care professionals who are experts in the care of patients with wounds, ostomies and incontinence. The Society supports its members by promoting educational, clinical and research opportunities to advance the practice, and guide the delivery of health care to individuals with wounds, ostomies and incontinence. Learn more by visiting http://www.wocn.org. Connect with WOCN® on Facebook, on Twitter @WOCNSociety and on LinkedIn.