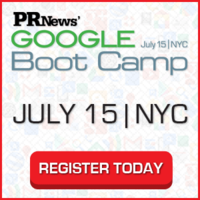 New York, NY (PRWEB) June 16, 2014
PR News' Google Boot Camp for Communicators, which will be held at the Yale Club in New York City on July 15, 2014, is programmed to be an educational springboard for PR practitioners and communicators who are looking to leverage Google for their brand. PR News has developed an intensive full-day boot camp for communications and PR professionals seeking a foundational grasp of Google's capabilities. The early bird rate ends June 19, 2014.
More information available at: http://www.googlebootcamp2014.com/
Boot camp trainers include professionals from the Google team as well as organizations including Westat, The Nature Conservancy, Century 21 Real Estate and more. Participants will be trained on how to make Google work for their brand. The Google Boot Camp for Communicators will include breakfast, lunch and networking. Attendees will also receive a certificate of completion.
Attendees will learn how to:

Avoid overuse of keywords and links that can actually harm their page ranking
Mix up your content mediums to increase visibility
Recognize the types of content that are popular on Google
Use Google Analytics data to answer key questions about which content drives traffic
Obtain measurement data that can be used to improve brand outreach
Determine which data provides the most accurate picture of a brand's performance on Google
Create effective research reports and infographics using Databoard
Adapt information drawn from Databoard to create dynamic content
Develop and cross-promote video content with YouTube
Understand how Google uses Google Authorship to elevate blog posts
Use Google Hangouts to elevate their brand, and expand outreach to customers
Develop an ad campaign that optimizes the key locations on their site
View the Full Agenda
For PR communicators, Google is your brand's digital gateway to the world. Much more than the world's most visited search engine, Google can provide you with a communications toolkit that can raise your digital profile, track your progress and engage with customers in a variety of ways. This full-day event will give you the know-how to leverage Google for your brand. Register now at http://www.googlebootcamp2014.com. The early bird rate ends June 19.
For questions regarding this boot camp, contact PR News' Saun Sayamongkhun at saun(at)accessintel(dot)com. For sponsorship information, contact PR News Senior Vice President & Group Publisher Diane Schwartz at dschwartz(at)accessintel(dot)com
PR News is a daily intellectual hub that serves the communications and marketing community at corporations, agencies and nonprofits. The PR News Group focuses on honing and growing PR practitioners' skills in social media, crisis management, digital PR, measurement, employee relations, media training, CSR and writing through its flagship newsletter, webinars, conferences, awards programs, workshops and guidebooks. With the launch of its weekly newsletter over 70 years ago, PR News has remained dedicated to supporting the growth of communicators all while keeping them abreast of the latest news affecting the industry. For more information, please visit http://www.prnewsonline.com.