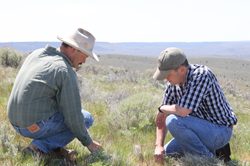 "Gary really cares about his grass," Mundy says. "His land is in phenomenal shape. I'll go look at a field with him and say, "When are you going to bring the cows in?" And he'll say, we just moved them out of here."
Paulina, Oregon (PRWEB) June 13, 2014
"If you see any juniper trees out there, they're on somebody else's land," said Gary Bedortha, surveying his rolling open and vast sagebrush country, just the way sage grouse like it.
Bedortha has overseen the removal of 12,000 acres of junipers that have invaded former sagebrush, and in doing so he's improved the range for sage grouse and ranching alike. The Sage Grouse Initiative has played a key role in funding juniper removal here, and in all parts of the sage grouse range where conifer removal is a huge threat to the future of sage grouse. The focus is on the early stages of invasion, when junipers are just spreading out into the sagebrush, rather than on cutting well established forests. Recent science supports this approach.
Removing junipers has multiple benefits for the sage-steppe ecosystem, Bedortha says. It increases forage for livestock and wildlife, conserves water for other plants, increases plant diversity, and reduces perches for ravens and other predators. "Sage grouse concerns provided the reason to get the job done, but there's a tremendous amount of other benefits," he says.
Please visit the SGI website to read the full story.
(Author, Steve Stuebner). SGI encourages reprints of the story.
Please also contact: Chris Mundy, district conservationist, NRCS: chris.mundy(at)or(dot)usda(dot)gov (541) 923-4358 ext 112
Sara Magenheimer, NRCS Oregon State Public Affairs Officer: Sara.Magenheimer(at)or(dot)usda(dot)gov (503) 414-3250