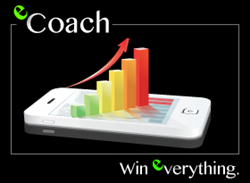 Fairfield, NJ (PRWEB) June 13, 2014
Vision-e today announced it has launched eCoach on salesforce.com's AppExchange, empowering businesses to connect with customers, partners and employees in entirely new ways. A one-of-a-kind application, eCoach allows sales managers to provide their salespeople with a customized series of questions, which can be accessed during sales calls via the salesperson's iPad, iPhone, or Android device. With eCoach, sales managers can easily:

Provide salespeople with the exact information they need to ask the right questions on every sales call.
Monitor customer interactions, resulting in a better-trained, more productive sales team.
Uncover sales leads that were previously difficult to discover.
Built on the Salesforce Platform, the world's leading cloud platform for social and mobile business apps, eCoach is currently available on the AppExchange at https://appexchange.salesforce.com/listingDetail?listingId=a0N3000000B53ENEAZ.
Comments on the News
According to Walter Rogers, CEO of Cloud Coaching International, in a YouTube video entitled Improving Sales by Improving Sales Managers, "Managers should spend between 25% and 50% of their time really coaching their staff…. [but] they don't… Managers ought to do that one-on-one conversation with their reps at least once a week…" eCoach makes the giving of consistent feedback easy since managers are able to truly understand how reps have handled various sales calls, and data from those sales calls is stored in the company's Salesforce instance, so both manager and rep can refer to that information whenever needed.
Product Key Features
With eCoach, users can:

Use FaceTime to interact real-time with salespeople, no matter where they are located
Allow salespeople in the field to access corporate/custom scripts as managers capture and view the answers given by customers and potential customers
Record answers to script questions so that they are permanently available within Salesforce
Associate completed scripts to Salesforce Accounts and Contacts
Group questions by topic for easy reference and data cap
Include dependency questions as part of the script to obtain further insight in particular areas
Create help text and keywords to guide the salesperson through the script
Create new contacts, tasks, events or notes while concurrently viewing the script
Additional Resources

About the AppExchange
The Salesforce AppExchange is the world's leading business apps marketplace. With more than 1,800 partner apps and 1.7 million customer installs it is the most comprehensive source of social and mobile cloud apps for business. The Salesforce Platform is the world's most trusted and comprehensive cloud platform for building social and mobile cloud apps, powering Salesforce CRM, and more than 3 million custom apps built by customers and partners. Apps built on the Salesforce Platform can be easily distributed and marketed through salesforce.com's AppExchange.
Salesforce, AppExchange and others are trademarks of salesforce.com, inc.
About Vision-e
Vision-e, in alliance with Salesforce, is a leader in CRM implementations and productivity applications. Vision-e meets the emerging needs of customers by providing rapid CRM implementation, mobile and cloud computing technologies and external system integrations.
Vision-e has the experience and expertise to deliver fast and responsive Salesforce solutions so customers get the performance they expect.
From bakers to bankers, garages to GM, Vision-e creates affordable, effective, customized Salesforce solutions for any size business, with any size budget. Vision-e puts its customers first so they can put their customers first.
"Vision-e provides elegant, highly customizable solutions that help companies of all sizes get the most out of the Salesforce platform. Vision-e: it's Salesforce…extraordinary." ~ Jule Limoli, CEO, Vision-e
For more information on Vision-e, go to http://www.Visione.com or call 888-611-2679. Vision-e is headquartered in Fairfield, NJ.