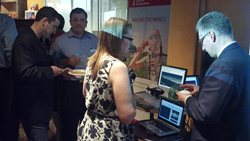 'This is a group where we want young professionals, students, inventors, entrepreneurs, and innovators of all origins to gather and share exciting technologies geared to a greater cause, the protection of our men and women in uniform.' - Vanessa Couturier
Cambridge, MA (PRWEB) June 12, 2014
Last week on June 4th, more than 75 professionals from the New England area, 10 local defense technology companies and one Congressman from North Carolina gathered at the Venture Café in Kendall Square, Cambridge for an evening of innovation, ground breaking technology and networking. The Innovation Fair, was organized by an upcoming local networking group called United4Defense in order to showcase the latest capabilities from select promising startups and small businesses in the defense arena.
United4Defense first started having monthly meetings in Kendall Square about two years ago in an effort to find a voice for new defense companies. Close to MIT, the Draper Lab and multiple incubators downtown, the group quickly attracted entrepreneurs, students and visitors from surrounding military laboratories and bases, thanks to innovative meeting topics, a casual atmosphere, local beers and food, and no attendance fee.
Behind United4Defense are HGH Infrared Systems' Katie Shea and Vanessa Couturier helped by their coworkers and friends, all united to make Defense a more open, accessible and attractive industry: "This is a group where we want young professionals, students, inventors, entrepreneurs, and innovators of all origins to gather and share exciting technologies geared to a greater cause, the protection of our men and women in uniform. Large businesses enjoy coming to source innovative suppliers, and small businesses get to meet and know each other, help each other and collaborate," Couturier explained.
This year's event was co-sponsored by the National Defense Industrial Association of New England, Boston Engineering, the Canadian Consulate of Boston and HGH Infrared Systems. Exhibitors included Top Flight Technologies, founded by ex-members of the Draper Lab, MIT and the FAA, who brought and flew two UAVs, one of them the size of a small bird. Digital Results Group, Boston-based creator of Ageon, a Command and Control software with unmatched interoperability deployed in Afghanistan, demonstrated their platform. From an autonomous helicopter flight test program that was recently conducted for the Marines, to Autonomous Underwater Vehicles (AUVs) or a panoramic high resolution thermal camera appropriately called Spynel, the event was full of opportunities to discover products rarely viewed by the general public. As a testament to the open nature of the event, the Canadian Consulate actively supported the organization and invited two Canadian defense startups, Whitenoise Technologies and Cicada Security who have recently opened operations in the United States. Michael Kuhlman, Chief Scientist for National Security of Battelle Memorial Institute, the world's largest nonprofit research and development organization also met with entrepreneurs during one-on-ones for the duration of the event. The Innovation Fair attracted one visiting Congressman from North Carolina, Patrick McHenry, who spoke about his initiatives in Washington in supporting crowd funding, a topic that resonated with the attendees.
United4Defense meets monthly at the CIC building in Kendall Square; to stay up to date on all their future events please visit their website: http://www.united4defense.com.
Contact: Katie Shea, United4Defense: Katie(dot)Shea(at)hgh-infrared(dot)com