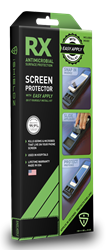 La Verne, CA (PRWEB) June 13, 2014
eShields, LLC., a Southern California based company and originator of the patented iShieldz™ touch-screen protection system, introduces new multilingual retail packaging for its 3 current product lines (HD-High Definition, KO-Impact Resistant and RX-Antimicrobial). "Due to our new antimicrobial product launch coupled with our growing global presence we realized the need to offer additional languages to meet the demands of the growing geographic markets that we serve," said John Martinez, Vice President of Global Sales for eShields. Martinez went on to say, "In addition to English, French and Spanish, which have always been available, packaging will also be offered in Chinese, German, Japanese and Polish.
"Due to the increased concern of contagious disease control, the addition of our new antimicrobial product along with our new distribution partners in Japan, Germany and the Middle East helping fuel our global expansion it was an easy and necessary move to make to further facilitate growth in these markets," said Martinez. Martinez went on to say, "The category of touch-screen protection is strewn with substandard products and one of my core focuses is to position the iShieldz™ product as the clear leader and best product available to protect your valuable investment."
The iShieldz® AM™ Antimicrobial Film is a breakthrough in material science combining the unrivaled strength and clarity of the iShieldz™ screen protection film with independently lab-verified Antimicrobial protection for today's mobile and touch screen devices. Recent studies have proven cell phone touch screens are a breeding ground for dangerous microbes such as Staphylococcus, Influenza and E. Coli. The iShieldz™ AM™ Antimicrobial Film will not only protect your cell phone from damage and scratches but will also kill dangerous microbes by utilizing a revolutionary technology, infusing medical grade nano-particles directly into the surface of this new material. EPA registered, FDA listed and carrying a stamp of approval for use in hospital emergency and operating rooms, the iShieldz® AM™ Antimicrobial Film is the first of its kind.
The iShieldz™dry apply kits come with a patent pending applicator that insures a perfect bubble-free installation every time. All iShieldz™ kits are backed by a Lifetime Replacement Warranty.
iShieldz™ dry apply kits are available for all current golden handsets while the original iShieldz™ remain available with support for just about every other touch-screen smart phone on the market.
To find out more about eShields and the iShieldz™Screen Protection Kits, you can visit our website.