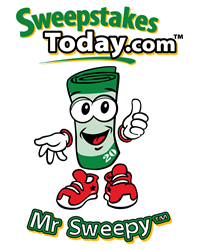 (PRWEB) June 16, 2014
When Mobil 1 announced the winners of their Upgrade My Bike contest, no one was more surprised than Craig McDaniel, founder of the popular SweepstakesToday.com when he realized that two of the four Grand Prize finalists had entered through his site.
According to the Mobil's company's website Frank Mallory, of Yucaipa, CA won the Racing 4T prize winner and Brett Wilder became the V-Twin Grand Prize winner.
They won with a picture of their bikes and themselves and a statement about why they should win. Winners were chosen by popular vote. Both had found the contest and entered from Sweepstakes Today, they reported in a recent interview.
The confusion started when Frank Mallory discovered that the contest wasn't actually a new bike, but a custom upgrade of a bike he currently owned. That meant he would have to ship that bike to get the upgrade. Almost before he could make a decision, Mobil 1 changed their minds and decided his small, older mini-bike didn't qualify even through Mobil and their staff had the public pictures of Frank's bikes.
Fortunately, Brett Wilder had no problem and his bike is now in the process of getting its upgrade from Mobil 1.
And Mobil 1 came through for Frank after a bit of back and forth and made a public statement on their own Facebook page announcing that Frank indeed won.
"I was delighted when Mobil 1 awarded Frank the prize he won," McDaniel's said in an interview today. "I'm also I am thrilled that the two Grand Prize winners came from SweepstakesToday.com."
Sweepstakes Today LLC was launched online in March of 2004. The popular online sweepstakes website site is based in Tulsa, Oklahoma and the custom Microsoft ASP/ASPX/RAZOR programming development is done in Salt Lake City, Utah. The website has now published over 45,000 sweepstakes, contest and giveaways.