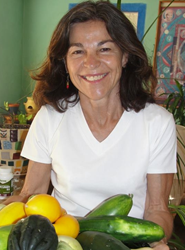 "We know how hard it is to be around all the smoke and ash and the toll it can take on a person or their pet," explained Ambaya Martin, owner of Ambaya Gold.
Sedona, Arizona (PRWEB) June 24, 2014
In May of 2014 Sedona and Flagstaff, Arizona suffered a 25,000+ acre fire, recently named the Slide Fire. Inhaling smoke and ash in the aftermath of this, now contained fire, sparked liquid supplement company to offer a huge discount on their detox and cleansing products.
Those who have been near the wildfires burning in Arizona know all too well how the body can be affected by such chemical and smoke inhalation. Beyond what is physically felt, internal damage can be done as well, leading to a weaker immune system. Ambaya Gold, the creator of liquid nutritional supplements and vitamins, and an Arizona-based company, is offering a discounted solution in which to counter the effects of the wildfire.
"We know how hard it is to be around all the smoke and ash and the toll it can take on a person or their pet," explained Ambaya Martin, owner of Ambaya Gold. "We want to offer our help and support by giving people the opportunity to counter the problem and restore their health as quickly as possible."
A twenty-five percent discount will be applied to all products through the month of June 2014, when the code CLEAN1 is mentioned upon calling to place an order. There are several products that are recommended to help those who have been impacted by the fire including:
Detox Cleanse Renew
This safe liquid detox solution has been successfully used for seven years. It is effective at detoxing the body of toxins and heavy metals. It also helps to increase energy, improve mental clarity, and replaces minerals, elements, and amino acids that the body is in need of.
Electro Hydrate
Considered one of the best hydration supplements on the planet, this product has been specially formulated to help provide hydration and sustained systemic functioning. Recharging and improving mental clarity, Electro Hydrate is made up of minerals and active enzymes, and is easily absorbed.
Pet Health Plus
This is a safe and gentle supplement that will detoxify pets, including cats, dogs, and horses. It contains essential nutrients, amino acids, minerals, and trace elements and is effective at detoxifying pets of heavy metals, chemicals, and other toxins.
"It is important to take measures to help rid the body, and pets' body, of the toxins from breathing in all the smoke," added Martin. "These products have a great reputation for being effective, safe, and have helped many people and their animal family members, over the years."
About Ambaya Gold: Ambaya Gold is a liquid supplement and vitamin company based out of Sedona, Arizona, and has specialized in providing effective liquid nutritional solutions for over seven years. To obtain the 25% discount on all products through the month of June or for more information on Ambaya Gold's proven health products, visit http://www.ambayagold.com or call 928-282-1756 and mention promo code CLEAN1, today!