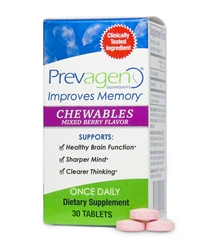 Madison, WI (PRWEB) June 13, 2014
Quincy Bioscience, manufacturer of Prevagen®, is pleased to announce the launch of Prevagen Chewables in Walgreens' locations nationwide.
Prevagen Chewables contains 10 mg of the mind-enhancing ingredient apoaequorin per dose, and is designed to support healthy brain function and improve mild memory issues associated with aging. Prevagen Chewables are available in a mixed berry flavor, and can be purchased online at the Prevagen website or over-the-counter at Walgreens chain drug stores.
The body's ability to produce essential calcium-binding proteins slows down during the natural process of aging, and may affect memory, focus and concentration. The main ingredient in Prevagen, apoaequorin, has been clinically tested to supplement these proteins, and improve brain health and overall memory. Daily use for 30-90 days is the recommended length of time to experience results. Prevagen Chewables are safe and effective, and manufactured at a NSF registered facility.
"Our chewable formulation provides for convenience and ease-of-use for people that are not fans of swallowing pills," said Mark Underwood, president and co-founder of Quincy Bioscience. "We want to remove every barrier that stands in the path of better brain health."
Prevagen recently won its third Vity Award for the best brain support formula from Vitamin Retailer magazine, and is the leading branded brain health supplement in health food stores, pharmacies, and physician offices since the product was launched in 2007.
To obtain more information about Prevagen Chewables, please call (888) 814-0814 or visit the Prevagen website.
About Quincy Bioscience:
Quincy Bioscience is a biotechnology company based in Madison, Wis. that focuses on the discovery, development and commercialization of novel technologies to support good health in aging. The company's products focus on supporting memory and cognitive health. Quincy Bioscience is set apart by its cutting-edge applications of the protein apoaequorin, which is breaking new ground in the area of brain health.
*These statements have not been evaluated by the Food and Drug Administration. This product is not intended to diagnose, treat, cure or prevent any disease.