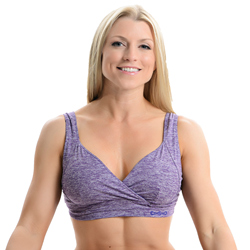 Las Vegas, Nevada (PRWEB) June 18, 2014
BaliniSports introduces the Miranda Bra, the first wireless lifting and four-way stretch bra created for women with breast augmentations. After much market research and consultations with plastic surgeons and bra specialists, designer and founder of BaliniSports, Ada Hung, created the Miranda Bra to fill the gap that exists for women that desire comfortable, attractive post-surgical bras. The Miranda Bra provides incomparable support and softness that feels like a second skin, and can be worn as an everyday or yoga bra. This bra is made for fashion-forward women with and without breast implants and is available in black and heather purple at the BaliniSports online store.
The Miranda bra features a stretch band with a specially engineered fabric that produces the same level of hold without a feeling of suffocation of the diaphragm during breathing. It is carefully designed with wide straps to naturally balance the weight of a woman's tender breast tissue after surgery. The bra creates natural tension to support shoulders and breasts. The creative mind behind BaliniSports, Ada Hung, has a passion for high- quality design and a desire to provide better options for her five million fellow women in the United States who live with breast implants. "Following my own breast augmentation, I never imagined that my post-surgical destiny would be choosing between stiff under-wire bras and flimsy unattractive sports bras." Admitting to considering using an under-wire bra, her surgeon made it very clear that she should not apply pressure to her breasts during the critical period following surgery. "My research led me to discover a recent study that claimed high pressure on the skin caused by tight fitting bras might be linked to higher instances of cancer." The snug fit of under-wire bras makes breasts especially likely to cause pressure on the skin. The alternative of squishing into a sports bra, which isn't designed to appear flattering under shirts and dresses, would do no good for expensive breast implants in the long run.
Plastic surgeons around the world also warn that not giving breasts enough support could cause pain and eventual sagging. Given the lack of options on the market for women like Ada, her creative juices began to flow and eventually brought the Miranda Bra to fruition. With the introduction of the Miranda Bra, women with breast implants finally have the freedom to move their bodies with natural grace, while feeling comfortable and supported.
About BaliniSports:
With the mission to spread love, confidence and fun through yogawear, BaliniSports gives you what you need from your workout clothes. All pieces are made with high-quality, sweat-wicking fabrics. Allure Lycra and specially formulated LARU fabrics offer a four-way stretch, allowing a full range of motion so yoginis can contort as they please. Every piece is designed with a contour slim fitting design so your curves are hugged and flattered, keeping you confident whether you are in or outside the studio. Made for fashionistas, BaliniSports brings you the best balance between fashion and function. BaliniSports prides itself in offering the most sophisticated, feminine on-trend designs.
BaliniSports bring industry renown bra specialist and pattern makers to the design table, assuring assuring a perfect look and fit for every piece. Prior to production, BaliniSports fabrics undergo intense quality-assurance testing in the same labs that certify Nike and Adidas fabrics, which follow the same standards as brands like Nordstrom and Prana. Beyond that, BaliniSports factories utilize Bluesign® system of production to ensure environmentally friendly process and are OEKO-TEX® certified assures every product is built to last long. All pieces feature a flat-lock and cover stitch, to ensure durability so you can move in them for many years to come.