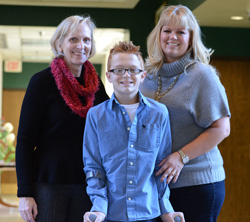 Louisville, KY (PRWEB) June 13, 2014
The NeuroRecovery Training Institute (NeuroRTI) is proud to announce that founder Andrea Behrman, PT, PhD, and Professor, Department of Neurological Surgery at the University of Louisville (UofL), has received the John H.P. Maley Lecture Award from the American Physical Therapy Association (APTA).
The award honors APTA members who have made distinguished contributions in any field of the physical therapy profession. Dr. Behrman will present the 19th annual John H.P. Maley Lecture at the 2014 APTA NEXT Conference & Exposition in Charlotte, North Carolina at 10:00 AM on June 13th.
Her presentation, titled "I Never Thought That I Would Need to Child Safety-Proof My Home" discusses the finding that the human spinal cord has the capacity to learn, even after injury. In response to specific, repetitive, meaningful activity, or "activity-based therapy," the injured nervous system can receive sensory information, integrate it, and produce a motor response. This breakthrough has greatly changed the face of spinal cord injury, and has caused a large shift in the neurorehabilitation of such injuries.
"It is an honor to receive the John H.P. Maley Lecture award," said Dr. Andrea Behrman. "Our findings over the last few years have made for great strides in the neurorehabilitation field and I look forward to sharing them with the physical therapy community in Charlotte."
Dr. Behrman's work in activity based therapy was the basis of the largest gift ever awarded in the neurological physical therapy field in 2013. Kosair Charities and the University of Louisville donated a combined $10 million in funds for her research using locomotor training as a means to regain use of paralyzed limbs in children with neurological injuries and disease at Frazier Rehab Institute, a part of KentuckyOne Health and the site of Dr. Behrman's research. In addition, these funds will support an endowed chair position for Dr. Behrman and jump-start the development of the "Kosair Center for Pediatric NeuroRecovery" at the University of Louisville.
To learn more about Dr. Behrman and her work with NeuroRTI, please visit http://www.neurorti.com.
About The NeuroRecovery Training Institute
The NeuroRecovery Training Institute (NeuroRTI) is on a mission to create and promote a culture of evidence-based practice (EBP) within the neurologic physical therapy profession. Through transformational education efforts, NeuroRTI is creating a full continuum of neurologic training programs beginning with a large nationally-scaled physical therapy Neurologic Residency, Postprofessional DPT and online Continuing Education (CE) course work that will include various topics in the treatment of spinal cord dysfunction, acquired brain injury, and other neurologic disorders. A course on the new Neuromuscular Recovery Scale, an innovative outcomes tool will be released in July.