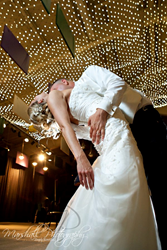 The Toledo Zoo brings the whole world to couples planning their weddings.
Toledo, Ohio (PRWEB) July 10, 2014
Have you always imagined an island wedding, surrounded by palm trees and exotic flowers, for yourself? Or, how about a formal garden setting for the wedding and reception – with everything outside? What about something a little different? The Toledo Zoo has been the perfect venue for many couples over the last 10 years.
Today, very little is "standard" in wedding planning. The key to exploring all of the possible alternatives is to have everything available in one location – from settings to chef to staff to bakery. Colleen Tankoos at the Toledo Zoo, in Toledo, Ohio, brings the whole world to couples planning their weddings and receptions. The Zoo has even caught the attention of The Knot, which has named it among its best of weddings (venues) the last four years straight.
"We utilize almost every element of the Zoo to create the perfect wedding setting for every couple," Tankoos said. "We've coordinated weddings and receptions inside all of our buildings, as well as in our formal gardens and specialized pavilions. There's almost nothing we can't recreate here at the Zoo."
Home to more than 6,000 animals representing 500+ species, the 74-acre Toledo Zoo features specialized experiences such as Tembo Trail, Arctic Encounter® and the multispecies Africa! exhibit. The Toledo Zoo was established in 1900 and features several WPA-era buildings, incredible art and sculptures, a conservatory and formal gardens. The Toledo Zoo was recently voted number one in USA Today's 10Best Readers' Choice Awards & earned double national honors in the 2014 FamilyFun Magazine Travel Awards – second among zoos and aquariums and eighth overall nationwide.
"This is our tenth year of hosting weddings at the Zoo," explained Tankoos. "Our weddings have ranged from small, intimate affairs of 20 people or less to as many as 500 guests. Once a couple books a wedding, they work closely with our staff up until their wedding day." The Toledo Zoo is fully equipped for all wedding planning and execution, including an executive chef and staff, a bakery and full event facilities. In the month before the wedding, the catering manager takes over management of the food and beverages, and a wedding coordinator accompanies the couple through the wedding day. Couples may bring in other vendors to add special touches to the day.
Toledo Zoo weddings have featured myriad combinations, created to meet the dreams of each couple. Examples of recent weddings include:
A Hawaiian retreat for Tori and Nick was a natural extension of their wedding ceremony in Hawaii, sharing the celebration for family and friends. Grass skirts and a Hawaiian-inspired menu set the scene, as did their African Lodge setting.
Multiple cultures were celebrated at the wedding of Mandy and Saurabh, including his Indian heritage and her Polish background. And just to keep the Zoo setting alive, the Nairobi Pavilion at the Zoo was decorated with satin zebra chair sashes.
For Danielle and Ray, both conservation workers, the Zoo provided the perfect backdrop. In addition to their traditional touches, they included a pie bar from a local baker. They also donated to the Zoo in lieu of favors, contributing to the Kihansi spray toad fund that the Zoo supports.
For information about scheduling your wedding at the Toledo Zoo, call 419.385.5721, extension 6001, or visit toledozoo.org.
About the Toledo Zoo
The Toledo Zoo is open from 10 a.m. to 5 p.m. and is located on the Anthony Wayne Trail (US 25), four miles south of downtown Toledo. For more information, please visit toledozoo.org or call 419.385.4040.
The Toledo Zoo is committed to inspiring others to join in caring for animals and conserving the natural world. As part of that mission, the Zoo is accredited by the Association of Zoos and Aquariums (AZA), a leader in global wildlife conservation. AZA member institutions are dedicated to providing excellent care for animals, a great experience for visitors and a better future for all living things.
Photo Editors Note: Photo credit to be given to the listed photographer - high res photos available upon request.