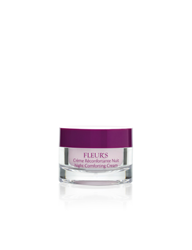 ...combination of moisturizing floral ingredients precisely proportioned to achieve synergies and effective results.
Saint-malo, France (PRWEB) June 16, 2014
Fleur's, the premier floral skin care brand launches Night Comforting Cream with Moisturizing Bouquet to deeply moisturize and nourish the skin while you sleep for restored radiance to the complexion. This luscious cream contains a signature ingredient complex found throughout all of Fleur's moisturizing collection, Moisturizing Floral Bouquet, a combination of moisturizing floral ingredients precisely proportioned to achieve synergies and effective results. Mulberry and West Indian Cherry Extract are also infused within the product, allowing skin that is in nighttime "repair mode" the ability to absorb precious antioxidants and Vitamin C. The texture is velvety and has a light floral scent with fresh, freesia notes. Night Comforting Cream went through clinical tests in an independent laboratory where volunteers showed a 33% increase in skin's hydration levels one hour after application.*
*Complete test results available upon request.
Night Comforting Cream with Moisturizing Floral Bouquet- 50 ml, suggested retail price $86.00
Directions for use: apply in the evening to the face and neck.
Key ingredients:
Moisturizing Floral Bouquet:

White Orchid Extract - moisturizing, softening, antioxidant.
Mourera Fluviatillis Extract - regulates hydration levels and improves the skin's ability to retain moisture.
White Lily Extract - emollient, moisturizing, revitalizing.
Morbus Alba Extract (Mulberry) - helps brighten and illuminate the complexion.
West Indian Cherry Extract - contributes to skin radiance thanks to its richness in Vitamin C.
Apricot Kernel Vegetal Oil - nourishing, revitalizing.
Fleur's at a glance:
Fleur's, literally meaning "flowers," draws its inspiration and actives from the beauty and power of the floral universe, the splendor and expression of art and ultimately the inexhaustible possibilities of science. These passions are synergistically combined with aromachology, fruits, minerals, floral waters and organic ingredients to create an effective and sensorial skin care line. Fleur's focus is blending effective treatments with a true spa experience in every facet - unique and imaginative treatments and techniques. We are one of the only spa brands with our own laboratory, allowing us to research and cultivate our own ingredients, develop unique cosmetic formulas, manufacture skin care products and create cutting-edge professional treatments to deliver remarkable results.
Available in spas in the United States May 2014 and at http://www.lespausa.com.