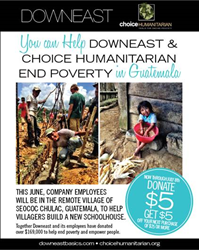 Salt Lake City, Utah (PRWEB) June 13, 2014
Utah-based retailer DownEast today announced its "$5 for $5" campaign to benefit CHOICE Humanitarian, a non-profit organization working in rural villages in developing countries to help end poverty. Now through July 8, shoppers at any DownEast or Lemon Ice store who donate $5 to CHOICE will receive a coupon good for $5 off their next purchase of $25 or more.
Funds raised through the CHOICE "$5 for $5" promotion will support efforts in the remote Seococ Chulac village in the mountainous Polochic region of Guatemala to build two new classrooms and establish family gardens. The initial classrooms will benefit approximately 60 students in the second and fifth grades who are currently learning in makeshift structures susceptible to poor weather conditions. Villagers will also be trained in planting and growing their own vegetables to increase nutrition. CHOICE currently operates in five countries – Kenya, Nepal, Bolivia, Guatemala and Mexico – working with villagers to improve quality of life through a model of self-reliance.
DownEast employees began a partnership with CHOICE in 2009 and later this month will undertake their fifth Guatemalan expedition. This is the first year the DownEast team will assist the Seococ Chulac village. For the past four years, it worked with the Chirixquitzac village in the same region, which has since successfully graduated from the CHOICE program. DownEast team members worked alongside the Chirixquitzac villagers on such projects as digging trenches for a clean drinking water system, constructing a school and community center, and building stoves that vent smoke from homes.
"It has been a touching experience to see the Chirixquitzac people make progress each year and become increasingly more self-reliant. We're looking forward to the same success with the Seococ Chulac village," said Rich Israelsen, COO at DownEast. "Our team members who join the expedition always return affected by the villagers' kindness, hospitality and genuine desire to improve their lives. CHOICE is an organization chosen by our employees and supported through their efforts, and we're very proud of what they've achieved."
Through annual fundraising campaigns and corporate-matched employee donations, DownEast has so far contributed more than $169,000 to CHOICE Humanitarian.
"I applaud DownEast for its commitment to end poverty – both in our backyard and abroad," said CHOICE Humanitarian CEO Leah Barker. "Once again, DownEast is inviting its customers to join them in creating a lasting impact for these villagers who are living on less than two dollars a day. We are humbled and inspired to partner with such a forward thinking company."
By donating $5 to CHOICE when you shop at DownEast or Lemon Ice stores now through July 8, you can help people in developing countries while also getting $5 off your next purchase of $25 or more – a win-win situation.
This year, four DownEast team members will take part in the expedition. Photos and stories will be shared on the DownEast by Design and At Home with DownEast Home blogs.
About DownEast
DownEast (http://www.downeastbasics.com), a leader in stylish and affordable apparel, home furnishings and accessories, believes that shopping should be a fun, guilt-free experience. Founded in 1991 and still family owned and operated, DownEast continues its goal of bringing customers the very best merchandise – from national brands to its own DownEast lines of home furnishings and DownEast Basics apparel – at the very best prices.
The fast-growing retailer operates nationally with its Basics line via its online store in addition to 56 locations throughout the West including in Utah, Colorado, California, Idaho, Arizona, Washington and Nevada.
# # #