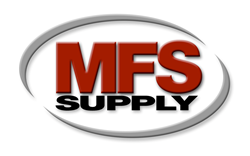 Customers can see products in person, not just online.
Solon, OH (PRWEB) June 13, 2014
In April, MFS Supply, a manufacturer and distributor of hardware, appliances, cabinetry, and home security products, opened a new showroom at 8100 Tyler Blvd., Suite 140, in Mentor, Ohio. MFS Supply, which previously only sold items online, now has a space for REO (real estate-owned) contractors, real estate agents, and property managers to browse through their inventory of cabinetry.
Heather Kinaitis, Marketing Coordinator for MFS Supply, says that the whole MFS Supply team was responsible in creating and opening the new showroom for the company to showcase its products and give customers a physical location for choosing those items. "Customers can see products in person, not just online," Kinaitis said, adding that the company's showroom is a "pleasant and comfortable environment" where customers can receive help from the team's sales staff.
MFS Supply's showroom also offers customers in the area a convenient location for shopping. The company's primary customer base consists of professional contractors and property owners who are performing renovations and upgrades to residences and of real estate agents who are preparing to sell homes.
The showroom at MFS Supply is especially advantageous for showing off the wood cabinetry the company stocks for residential kitchens. Other renovation and rehab supplies offered by MFS Supply includes appliances, carpets and flooring, HVAC supplies and plumbing fixtures, and necessities for home exteriors, such as siding and roofing, which can all be found online. MFS Supply also carries smaller items, such as lockboxes, door locks, smoke detectors, tools and equipment. The company also sells maintenance products for residential property, including lawn care equipment and cleaning items for trash out and maid services.
The online store will still be available to all customers. The benefit of the showroom, says Kinaitis, is that the sales staff is present to aid customers in choosing the best products for their needs in order to ensure that home sales, renovations, and maintenance are easy for MFS Supply's client base.
MFS Supply is a leading manufacturer and distributor of securing and hardware products for REO contractors, real estate agents, and property managers. MFS Supply has been on Inc. 500 2010 & 2011 Fastest Growing Companies list and was just recently awarded #1 on the Weatherhead 100, as the fastest growing company in Northeast Ohio. For more information, please visit mfssupply.com.