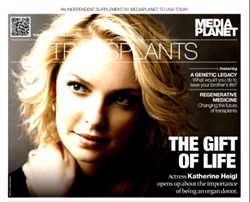 New York, NY (PRWEB) June 13, 2014
Mediaplanet today announces distribution of its second cross-platform edition of "Transplants," a campaign that aims to educate readers on the importance of becoming a donor, but will also serve as a resource for those awaiting a transplant while inspiring millions with the latest innovations in the industry.
The print component of "Transplants" is distributed within the centerfold of USA Today within the markets of New York, Dallas, Chicago, Los Angeles, Atlanta, and Philadelphia, with a circulation of approximately 450,000 copies and an estimated readership of 1.3 million. Its digital component is distributed nationally through a vast social media strategy and across a network of top news sites and partner outlets. To explore the digital version of the campaign, click here.
Katherine Heigl, actress and organ donation advocate, graces the cover of the print publication. An exclusive interview with Heigl on the interior serves as a source of inspiration and educates readers on the importance of giving the gift of life. Katherine mentions, "There is a continuing need for organ donation. On average, 18 people die each day waiting for a lifesaving organ." The campaign focuses on living trials and the consideration of new personalized treatment options through stories of survival and discovery.
This edition was made possible with the support of Katherine Heigl, Wake Forest Institute for Regenerative Medicine, Lonza, United Network for Organ Sharing, American Society of Transplantation, International Transplant Nurses Society, Joey Gase, Astellas, Children's Medical Center of Dallas, Piedmont Transplant, Spectrum Health, Nevada Donor Network, OrganJet, St. Vincent Medical Center, Veloxis Pharmaceuticals, Science Care, Gift of Life Donor Program, Viracor-IBT Laboratories, Baylor Transplant, and University of Wisconsin Hospital & Clinics.
About Mediaplanet
Mediaplanet is the leading independent publisher of content-marketing campaigns covering a variety of topics and industries. We turn consumer interest into action by providing readers with motivational editorial, pairing it with relevant advertisers, and distributing it within top newspapers and online platforms around the world.