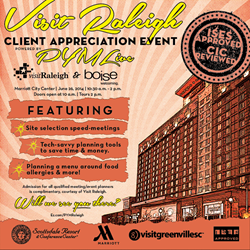 Every event that [local planners] keep 'home' showcases what we have to offer. To show our gratitude, we host a local client appreciation event annually.
Raleigh, NC (PRWEB) June 23, 2014
When groups meet in hotels, enjoy catered banquets and rent out meeting facilities, those dollars directly benefit the host communities. According to the 2014 Economic Significance of Meetings to the U.S. study, the meetings industry supports 1.7 American jobs, and generates $770 billion in direct spending and $28 billion in tax revenue to federal, state and local economies annually. Roughly 40 percent of all U.S. meetings occur in the company or organization's home town. That's one of the reasons Visit Raleigh treasures its relationships with local meeting planners.
"Our local planners mean a lot to our destination. Every event that they bring or keep 'home' showcases what we have to offer," says Visit Raleigh's Associate Director of Sales Malinda Harrell, CASE, CMP. "To show our gratitude, we host a local client appreciation event annually." The next Visit Raleigh Client Appreciation Event Powered by PYM LIVE will take place June 26 from 11 a.m.-2 p.m. at the Raleigh Marriott City Center.
This is the second year Visit Raleigh will partner with Plan Your Meetings on its client appreciation event. Plan Your Meetings, an award-winning publication and educational resource for corporate meeting and event planners, is known for its innovative PYM LIVE format, which combines accredited educational sessions and hands-on event technology training with new meeting ideas and formats.
"Last year we worked with Plan Your Meetings to enhance the content and value for all who attended," Harrell says. "It became more than just a luncheon. 'Powered by PYM' means top of the line education, tech-savvy programs and access to local venues and service providers. The entire day was value-driven. It was a smart choice to partner with PYM and we are looking forward to the second annual client appreciation event, powered by PYM!"
For more information about the event, including the agenda, content and powered by PYM LIVE experiments, [visit the event page.
###
About Visit Raleigh, the Greater Raleigh Convention and Visitors Bureau
The Greater Raleigh Convention and Visitors Bureau, as the official destination marketing organization of Raleigh and Wake County, accelerates sustainable economic growth and development by increasing visitor and convention business. For more information, visit its website.
About Plan Your Meetings
Plan Your Meetings connects meeting and event planners with the education, resources and inspiration they need to plan better meetings and events. In addition to producing award-winning editorial and live events, PYM creates custom marketing programs designed to help hotels, CVBs and other meeting industry suppliers connect with qualified corporate meeting planners.