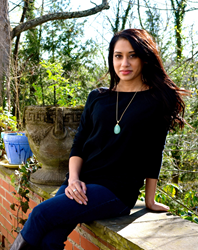 Having two locations has opened a great deal of opportunities for UG Apparel and myself
Chicago, IL (PRWEB) June 16, 2014
Founder of University Girls Apparel, Nesha Sanghavi, is an entrepreneur on the move. She recently decided to take advantage of her company's growth by adding a second office in Chicago, Illinois.
Her company, UG Apparel, specializes in college gameday apparel for fashionable women of all shapes and sizes. The brand was launched in 2011 and is currently licensed to sell merchandise representing top NCAA universities including West Virginia University, University of Alabama, University of Arkansas, University of Georgia and the University of Illinois.
Sanghavi expresses her satisfaction with the expansion saying, "Having two locations has opened a great deal of opportunities for UG Apparel and myself."
Both UG offices are closely located to two universities the company is licensed with (University of Illinois and West Virginia University), allowing Sanghavi a chance to develop relationships with universities and surrounding retailers.
Although she will continue to make monthly travels to her company's headquarters in West Virginia, Sanghavi mentions she is "excited and ready to see all that this new city has to offer."
Part of her excitement derives from potential collaboration with many of the local businesses, organizations and design schools dispersed throughout Chicago.
As a minority businesswoman, Sanghavi is also excited to connect with a diverse entrepreneurship scene.
For inquiries or more information about UG Apparel, please contact Nesha Sanghavi, nesha(at)ugapparel(dot)com or visit their website, UGapparel.com.