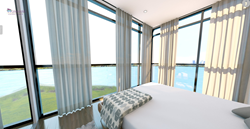 The Town of Grimsby has planned a new long-term West End Waterfront Master Plan and Trail Design study to provide a consistent development on a timely schedule
Niagara, Canada (PRWEB) June 13, 2014
Waterview Condominiums by LJM Developments, are proving they are the first and only luxury high-rise in Grimsby, by launching 8th and 9th floor one-storey penthouse suites with an exclusive Wine and Cheese Tasting Event - scheduled for Thursday, June 19th, 5:00pm -10:00pm. Registration and RSVP is required for attendance.
The event is being held at the Condominium's Sales Centre that debuted in May 2014. Not only will the Event premier the new penthouse floors and suites, but new incentives are being unveiled to offer perspective buyers discounted prices and value upgrades.
Waterview Condominiums will feature a 20,000 square foot roof terrace for residents to enjoy views of Lake Ontario from the comfort of an elevated outdoor garden area. With the Town of Grimsby set to implement immediate and far-ranging waterfront developments, Waterview will be a development in the heart of lakefront living.
Other amenities will include underground parking, a guesthouse, concierge services, a fitness center and a large party room; new owners will be pampered as if living in a five star resort. The Waterview Condominiums development is bringing luxury and sophistication to cottage living. From floor-to-ceiling windows to make full use of lake views to quality build materials, this development is in a class of its own in the Niagara region. Waterview Condominiums offers a front seat to the lakefront developments as they take shape over the next couple of years.
The Town of Grimsby has planned a new long-term West End Waterfront Master Plan and Trail Design to provide a consistent development on a timely schedule. This ambitious plan is set to provide the most immediate short-term gains possible, while also maintaining projects for mid and long term planning.
The short term phase will see public access through implementing walkways through public lands to the newly developed public beaches in the area with street parking to make a trip to the beach a breeze. The public trails and parking will enable beach-goers to enjoy 4 public beaches with ease.
The mid term phase of this auspicious project will see a waterfront trail installed from the Fifth Wheel lands to the regional pumping station and the establishment of two more public beaches along the trail. At this point, four public beaches and a waterfront and inland trail will link more than half of the entire development zone.
Over the long term phase, a full waterfront trail system including nature trails inland from the waterfront will be developed providing for a full loop of trails from east to west along the waterfront, inland and four north-south connecting trails. All of these phases include a critical plan for wildlife management and to preserve the natural habitats already in place and to enhance them whenever possible. Please visit the Master Plan's Facebook page here to follow the developments.
Waterview Condominiums are situated to be in the heart of one of the most extensive waterfront and nature trail systems in Grimsby and surrounding Niagara region, providing unparalleled leisure possibilities in the years to come; not to mention the natural increase in value such developments will bring to the most luxurious and largest Condo developments in the area.
The Waterview Condominiums sales team welcomes perspective buyers to RSVP for the Wine and Cheese event scheduled for Thursday June 19th to ensure a spot at one of the most exciting events leading up to the construction phase for the development. More details of the event can be accessed via the event promotional video on LJM Development's YouTube Channel. Experience the penthouse launch via 3D virtual tours and floorplans, and receive pre-build incentives while enjoying premium wine from the Niagara region.
RSVP Contact Information:
E: sales(at)waterviewcondos(dot)ca
P: 1.855.500.1215
W: http://waterviewcondominiums.ca
About LJM Developments
LJM Developments is a recognized industry leader in real estate development in Ontario, Canada. The company has developed highly-acclaimed signature projects in the residential and commercial sectors that are a perfect synergy of world class architectural design and cutting-edge construction quality.
For more information about Waterview Condominiums, please visit http://www.waterviewcondos.ca
####
If you would like more information about this topic or need to make further press inquiries, please contact LJM Developments at 289-245-1900 or e-mail: info(at)ljmdevelopments(dot)ca