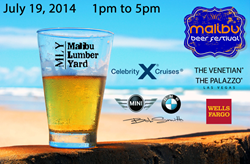 Wine, Beer, Spirits and the Malibu Sunshine
Malibu, CA (PRWEB) June 13, 2014
The Malibu Grand Tasting event is proud to announce a new and lavish location. On July 19th, one of Southern California's most premier shopping destinations, the Malibu Lumberyard, will be hosting the grand event. Described as a location where, "surf meets style," the Malibu Lumberyard, a proud platinum sponsor, is teaming up with Barcelona Enterprises for a charitable cause. The two have also paired up with some well-known names such as Wells Fargo, the Venetian/Palazzo and Celebrity Cruises. Through this collaboration, all proceeds of the Calabasas/Malibu Wine and Food Festival will be donated to "Rock Against Trafficking," a foundation fighting to bring awareness to the plight of millions of human-trafficking victims around the world.
"The Malibu Lumberyard is the ideal place for us to hold our Opening Day Grand Tasting," states Barcelona Enterprises CEO, Alan Semsar. "This venue offers a rich atmosphere that complements our festival perfectly. In addition to being the setting for our July 19th Grand Tasting, the Malibu Lumberyard is a sponsor of the entire festival. We aim to give our guests an experience they will never forget... the Malibu Lumberyard is an environment that compliments the elegance of our affair." This captivating location is home to the largest, outdoor, free-standing aquariums in Los Angeles. It is also surrounded by fashionable stores, one-of-a-kind boutiques, and fun eateries. Not only will guests have the opportunity to sample some of the most exquisite array of locally crafted brews, wines, and most decadent spirits that Southern California has to offer, but they will also get to enjoy the unique outdoor environment, including beautiful aquatic sanctuaries.
The Malibu Lumberyard will also be participating in the Calabasas Malibu Food and Wine Festival VIP after-party, June 20-21. From the exclusive caviar tasting to the VIP tastings and after-party, The Calabasas/Malibu Wine & Food Festival offers two weeks of world class events for guests to enjoy. All while helping raise funds for and bring awareness to a worthy cause.
For more information contact: malibufoodandwinefestival.com