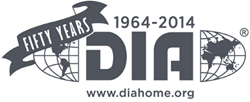 San Diego (PRWEB) June 13, 2014
Three leaders in the field will talk on June 16 about the growing influence of patients in accelerating the innovation of drug therapies. DIA 2014 50th Annual Meeting keynote speaker Jamie Heywood of PatientsLikeMe, DIA Global Chief Executive Barbara L. Kunz, and patient advocate and artist Regina Holliday will provide their outlooks on how increased patient involvement in the drug development process can drive down costs and slash the time it takes to heal the sick and save lives.
Panelists will discuss the current state and future of patient-centered drug development, then take questions from reporters.
What: DIA News Conference "How Patients Will Transform Health Care"
When: June 16, 11:45 a.m. – 12:15 p.m. PDT
Where: San Diego Convention Center, Room 21
ABOUT DIA: DIA is the global connector in the life sciences product development process. Our association of more than 18,000 members builds productive relationships by bringing together regulators, innovators and influencers to exchange knowledge and collaborate in a neutral setting. DIA's network creates unparalleled opportunities for the exchange of knowledge and has the interdisciplinary experience to prepare for future developments. DIA is an independent, nonprofit organization with its global center in Washington, D.C., USA, and regional offices covering North and South America (Horsham, Pa., USA); Europe, North Africa and the Middle East (Basel, Switzerland); and Japan (Tokyo), India (Mumbai) and China (Beijing). For more information, visit http://www.diahome.org.
ABOUT DIA's 2014 50th ANNUAL MEETING: Celebrate the Past – Invent the Future is the largest multidisciplinary event that brings together a community of life sciences professionals at all levels and across all disciplines involved in the discovery, development and life cycle management of medical products. The meeting aims to foster innovation that will lead to the development of safe and effective medical products and therapies for patients. For more information, visit http://www.diahome.org/dia2014.