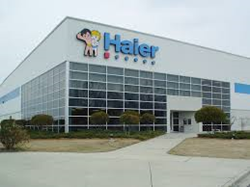 Zhengzhou, China (PRWEB) June 13, 2014
It was reported that work staff from iAbrasive.com recently made a visit to the industrial park of Haier Group--the world's largest white goods brand.
iAbrasive showed that during the visiting, they learned that thirty years ago Haier was just a small factory which nearly closed down. However, it has now developed into a giant in the world's appliance market. This was really a business miracle.
As a leading brand in global appliance market, Haier could always keep up with the changes of times. "I guess the different marketing strategies it has taken at different times make a difference in Haier's success today, for instance, network marketing strategy in the internet era." shared by Lei, the founder of iAbrasive.com. He continued: "Haier announced the full implementation of its network marketing strategy in 2012. The CEO of Haier must have foreseen the great prospects of network sales in advance."
Entering into the 21st century, people all around the world have been enjoying the benefits brought by the internet every moment. At the same time, more and more deals could be concluded through the internet successfully. Then, it became urgent for entrepreneurs to know how to use internet as the marketing tool to promote business. Here, Lei suggested http:// abrasives manufacturers try an integrated network marketing method.
"To be successful in the internet era, businessmen should firstly know how to make full use of internet to make money." Lei explained: "traditional marketing strategies can not catch up with the development of times now. Abrasives industry has been faced with several risks and challenges brought by the internet. Only by learning from Haier and carrying out network marketing strategy can abrasives manufacturers survive longer."
At the end, Lei indicated that the visiting to Haier was very meaningful. They would keep learning the advanced management concepts of these outstanding enterprises to strengthen itself for a long run.
About iAbrasive.com
iAbrasive is a professional B2B trading platform focusing on abrasives industry only. Since being established in 2012, iAbrasive has been advocating its integrated marketing strategy, which is to combine B2B Trading Platform, Industrial Website, SEO and Press Release together skillfully. For more information about iAbrasive's marketing strategies, link http://www.iabrasive.com.