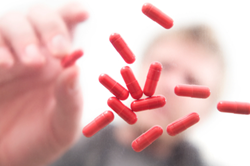 During National Safety Month, prescription drug abuse was cited as a leading safety issue, which necessitates raising awareness and broadly sharing information regarding steps people can take to take protect themselves.
Canadian, Oklahoma (PRWEB) June 16, 2014
Narconon Arrowhead published an informational tool kit on its main site during National Safety Month, making its prescription drug abuse tools available to anyone searching for information on the facts and dangers of highly addictive prescription drugs, as well prescription drug recovery and its treatment.
Prescription Drug Abuse in Oklahoma
According to the CDC, (Centers for Disease Control and Prevention), deaths involving opioid pain relievers continue to climb; now surpassing deaths involving cocaine and heroin combined.
Based on 2008 statistics, 14,800 deaths in the United States involved opioid pain relievers.
Oklahoma ranks 9th in the nation for the rate of overdose deaths involving opioid pain relievers, and the 2009 NSDUH (National Survey on Drug Use and Health (NSDUH) results show Oklahoma ranking first in all age categories for the consumption of non-medical pain relievers.
In 2009, 83% of drug overdose deaths in Oklahoma were attributed to pharmaceutical drugs, compared to 17% of drug overdose deaths attributed to street drugs.
Between 2005 and 2010, drug treatment facilities funded by ODMHSAS, the Oklahoma Department of Mental Health and Substance Abuse Services, saw a 67.5 percent increase in the misuse of prescription drugs.
Helpful Information
Narconon Arrowhead has years of experience in successfully rehabilitating addicts who have fallen into the trap of substance abuse, as well as years of experience in the delivering highly effective Drug Prevention Education to children and youth in schools and communities throughout Oklahoma and surrounding states.
Based on this wealth of knowledge and experience, the Oklahoma-based long-term drug rehabilitation facility compiled a comprehensive package of information on prescription drug abuse in the form of an online Tool Kit.
Additionally, the rehab center provides information on the signs of prescription drug abuse on its main website, including tips on how to stop this type of addiction in one's family.
A brief overview of information on the signs and symptoms of prescription drug abuse include:

Sudden weight loss or gain
A change in the person's sleep pattern
Dilated and/or bloodshot eyes
Change in the person's appetite
Deterioration of the person's physical appearance
Nodding off and slurred speech
It is noted that the prescription drug addict will commonly start the non-medical use of prescription drugs by stealing prescription opiates from the home medicine cabinet, or obtaining them from a family member, relative or friend.
Once addicted, the prescription drug addict is forced into "doctor shopping", buying the pills on the street, obtaining them from "pill mills", or is reduced to becoming a prescription drug dealer at some level in order to maintain their own habit.
Forewarned is Forearmed
Narconon Arrowhead is keenly aware that drug education is critical in the prevention of prescription drug abuse. In Oklahoma, experience has taught it is a common misconception that prescription drugs are somehow safer due to being prescribed by a doctor and considered to be legal. It has also been found that too many Oklahomans are not informed as to the highly addictive potential of these narcotic prescription painkillers, and too often find themselves becoming addicted as a result.
For questions regarding how to handle harmful situations, for information on the signs or effects of drug and alcohol abuse, or for arranging the care of a loved one needing help with substance abuse, please visit the Narconon Arrowhead website or call 800-468-6933.
Reference:
OK Prescription Statistics: http://ok.gov/odmhsas/documents/PR%20RxAbuse-FactSheet.pdf.