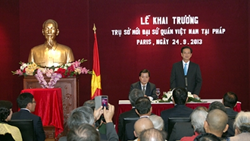 Our website also supplies with data about distance as well as flight time from France to Vietnam"
hanoi, vietnam (PRWEB) June 13, 2014
Embassyvietnam.org was founded online in 2008 as a significant information channel for travelers coming to Vietnam. The site provides useful information such as Vietnam's culture, culinary arts, investment opportunities, and Vietnamese visa's procedures, as well as international and domestic flights. To serve customers visiting Vietnam from France, embassyvietnam.org has updated important information about Vietnamese embassies or consulates in the country of love.
By visiting the website, visitors now can find the contact details, in terms of address, telephone number, fax, website address and office hours of the Vietnamese Embassy in France. Furthermore, a map is posted clearly on the website. "Having this map, customers will find it easy to go to the Embassy."-said the Chief Executive of Smile Travel Vietnam. "In addition, visitors are supplied with data about distance as well as flight time from France to Vietnam"- added he. More conveniently, visitors can look for Vietnam Embassy's contact in other countries if they wish to obtain a Vietnam visa in their living country.
About Smile Travel Vietnam Company
Smile Travel Vietnam Company was established in 2008. In spite of a young company, the company has been recognized as one of the most reputable companies in Hanoi, Vietnam by most international visitors using the company's services. It specializes in offering tourism services such as visas, air tickets and tours.