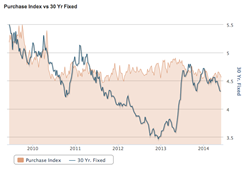 mortgage applications increased by 10.3 percent last week
Chicago, IL (PRWEB) June 12, 2014
CF Funding shares positive news for the housing market today, as both refinance and purchase applications have increased for the week ending June 6. The Market Composite Index by the MBA reported yesterday that mortgage applications increased by 10.3 percent last week, which is a 22 percent increase from the previous week (on a seasonally adjusted basis). Readers should note that Memorial Day fell on the previous week, however, data was adjusted to reflect the holiday.
The refinance index saw an increase of 11 percent from the previous week, and the purchase index saw an increase of 9 percent from the previous week, on a seasonally adjusted basis. The purchase index increased by 19 percent compared to the previous week on an unadjusted basis. However, unadjusted purchases were still 13 percent lower than the same week last year. CF Funding is confident that both purchase and refinance indexes will continue to rise as the housing market improves this year.
Refinances are still representing a large percent of mortgage activity, as the refinance share increased to 54 percent on the index last week, from 53 percent the previous week. Adjustable-rate mortgages were unchanged, representing 8 percent of total applications on the index. Interest rates increased slightly last week, as the reported 30-year fixed contract interest rate (for loans $417,000 or less) was 4.34 percent, up from the previous week's 4.26 percent. Jumbo 30-year fixed rates also increased, at 4.27 percent last week in comparison to the previous week's 4.22 percent.
The average interest rate reported for 30-year FHA loans increased slightly, from 3.99 percent to 4.06 percent. 15-year fixed-rate mortgage interest rates also increased from 3.39 to 3.43 percent. CF Funding is pleased to see that the increase in interest rates has not slowed down applications, as rates are still historically low and home affordability is rising. As seen in the graph, current rates near 4.5 percent are much lower than rates seen 5 years ago near 5.5 percent.
Today, rates saw a slight decrease with the best-execution 30 year fixed rate mortgage near 4.21 percent, in comparison to yesterday's 4.25 percent. The 52-week low is about 3.97 percent, according to Mortgage News Daily, and the 52 week high is about 4.85 percent. Those interested in mortgage rate updates may find up-to-date information through the CF Funding website at cffunding.com