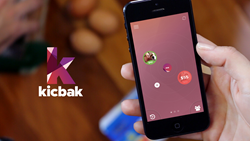 We figured, why not just remove the need to transfer money altogether?
(PRWEB) June 15, 2014
Australian startup Kicbak, prodigy of marketing agency Orange Digital's innovation program, has released its debut app that is aiming to remove the need for money transfers within personal relationships.
The outcome of a twelve-month process that involved a team working every Friday on the app, Kicbak aims to challenge the way that students, travellers, friends, colleagues, and family use money within their personal relationships.
Team member Tom Uhlhorn said that the app originated out of a frustration of splitting bills, and only after running it through a series of filters did the team realise that there was a much bigger problem needing to be solved.
"We didn't set out with the goal of removing money from people's relationships, however as we got deeper into frustration of split bills we realised that the simple act of transferring money between those closest to you is just plain annoying," Mr Uhlhorn said.
"We figured, why not just remove the need to transfer altogether? It's much easier just to work towards staying even with each other, especially with an interface that allows for a transaction to happen with a single swipe."
The interface designed by the Kicbak team allows for people to quickly lodge how much they owe or are owed by a friend or housemate, and encourages users to focus on staying even with each other instead of transferring money.
Innovation director Andreas Zhou said that by providing a unique and simpler alternative to transferring money, Kicbak highlights that money isn't always the best form of performing a transaction with friends.
"People are constantly performing joint transactions with each other: whether it's a cup of coffee, a gas bill, or an exchange of goods," Mr Zhou said.
"Money isn't necessarily the best way in measuring that, in fact more often than not, two people are conducting multiple transactions with each other in a single week so transferring money becomes time consuming and redundant. We decided that if we could create a system that focuses peoples efforts on staying even with each other, then we're removing the need to transfer money out of every relationship."
Kicbak is working hard to spread the word about the new app, and is currently hosting a competition on Facebook with a grand prize worth approximately $3,000. The app is available for free from the iTunes store worldwide.