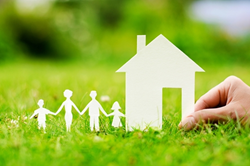 62 percent of firms that build single-family homes said that at least 15 percent of their projects included green features.
Chicago, IL (PRWEB) June 12, 2014
The Federal Savings Bank thinks that with World Environment Day having recently passed, individuals may be thinking about what green features they want in a new home purchase.
Although you can add your own energy-saving appliances, windows and other amenities to a property, there are options available if you're looking for a turnkey energy-efficient property. According to a recent report from McGraw Hill Construction, green home building has been on the rise during the housing recovery. The "Green Multifamily & Single Family Homes: Growth in a Recovering Market" survey asked residential property construction experts, who are members of the National Association of Home Builders, to share their findings on the emerging trend of green building.
The data, which provides comparisons to previous studies from 2006 to 2011, found that 62 percent of firms that build single-family homes said that at least 15 percent of their projects included green features. Furthermore, 84 percent of respondents expect to reach that benchmark by 2018. The Federal Savings Bank believes as having a green home becomes the industry standard, properties that have green features will hold or increase in value more.
"Greater consumer interest in green homes has contributed to the ongoing growth, leading us to anticipate that by 2016, the green single-family housing market alone will represent approximately 26 percent to 33 percent of the market, translating to an $80 billion to $101 billion opportunity based on current forecasts," said Harvey Bernstein, vice president of Industry Insights and Alliances at McGraw Hill construction.
Green homes could increase in value
As more home buyers become environmentally conscious, demand for energy-efficient homes has increased. Not only are consumers ready to recycle their glass, plastic and paper, but they're also prepared to lower their carbon footprint by reducing their electricity expenditures.
Bernstein went on to say that lenders and appraisers will likely take note of the growing value of green homes. As awareness increases, market penetration for these properties can also go up, creating more options if you're looking for a new home with green features.
In addition to demand driving green residential property construction, some builders have a dedication to the cause. According to the survey, 19 percent of respondents build 90 percent or more of their projects with green standards. By 2018, that figure is expected to rise to 38 percent.
The McGraw Hill Construction report on the growing value of green homes corroborates findings in a May report from Redfin, which ranked the neighborhoods with the most energy-efficient homes and said such properties tend to have a higher sale price.
For information about getting a low cost mortgage to buy a green home, contact the Federal Savings Bank, a veteran owned bank.