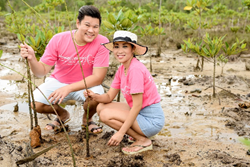 (PRWEB) June 13, 2014
Sugree Sithivanich, Deputy Governor for Marketing Communications at the Tourism Authority of Thailand (TAT), said, "Many couples are looking for extraordinary and memorable ways to start their married life or to commemorate an anniversary, so we conducted this Honeyteering FAM trip to show the media a new style of honeymoon trip.
During the 3-day trip, we took media, bloggers and honeymoon couples to explore and engage in meaningful activities that couples can enjoy during their honeymoon period in Phang Nga province such as a host lunch party for orphans from the 2004 Tsunami disaster at the Baan than Namchai Foundation, planting a tree at the Mangrove forest, and freeing sea turtles at Phang Nga Coastal Fisheries Research and Development Center."
Mr.Bheerapong Dowpiset, assistant chairman, said, "CASA De La Flora Hotel proudly presents a honeyteering experience during which the couple can combine a luxury romantic hideaway with local volunteering experience, which offers what other honeymooners don't get to do, even if it is a little dirty, sweaty, and exhausting… it brings couples closer together. Doing it with a partner can be a powerful bonding experience and a great way to learn more about each other, which the couple will remember forever. "
Sugree Sithivanich, Deputy Governor, concluded that Honeyteering is the perfect concept to capture this niche market group: honeyteering offers much more than just the 'traditional honeymoon couple' experience and makes it truly different and rewarding."
The TAT – in partnership with Thai Airways International and 22 honeymoon hotels and volunteer operators all over Thailand – will also be offering a range of Honeyteering experiences with the very best deals, which are up for grabs at http://www.HoneyteeringThailand.com until 31 October 2014.