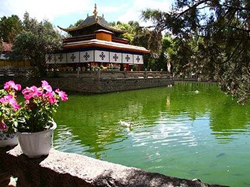 Tibet (PRWEB) June 15, 2014
Explore Tibet, a Lhasa-based tour company, is now promoting tailor-made tours to Tibet.
Many foreigners' perception of Tibet is that everything on the plateau is all about Buddhism and myths, of monasteries and temples—the answer is partially yes—but the precious park of Norbulingka is something that is different and pleasing to the eyes and hearts of all.
Norbulingka in Tibetan means "The Jeweled Park". The beautiful park is situated about three kilometers west of the Potala Palace in Lhasa. It has been the traditional summer residence of the successive Dalai Lamas. The park was used by Dalai Lamas since 1780s after the construction was completed until the 14th Dalai Lama departed from Tibet in 1959.
The construction of the garden started in 1755 during the time of 7th Dalai Lama and completed during the reign of 8th Dalai Lama in 1783. The spectacular park served both administrative and religious centers during the time of successive Dalai Lamas. The park gained great prominence during the time of 13th and 14th Dalai Lama when most of the structures we see today are built during their times.
Norbulingka covers an area of about 36 hectares and is considered to be the largest man-made garden in the entire Tibet with its wide varieties of horticultures. The park is located on the west of Lhasa on the bank of Tsangpo River.
The Jeweled Park is famous for flower gardens of many beautiful floras such as roses, marigolds, holly hocks and there are many rare herbs stored in the pots. Besides these, there are also fruit trees of apple, peach and apricot. Then there is a small zoo at Norbulingka, originally meant to keep the animals which were offered to the Dalai Lamas by the visiting guests.
For the laypeople of Lhasa, the gardens of the Norbulingka are the favorite picnic spot during the time of summer every year. It is a magnificent venue for theatre, dancing and festivals, especially for the celebration of Shoton—the 'Yoghurt Festival' that comes at the beginning of August.
In the current context, the 14th Dalai Lama's (who lives in India now) meditation room, bedroom, conference room and bathroom have become some of the most popular part of the display to the tourists.
Norbulingka is a unique illustration of Tibetan palace architecture. Along with Jokhang Temple, UNESCO inscribed it as a World Heritage Site as part of the Historic Ensemble of the Potala Palace.
In addition the adventures and spiritual retreat gained from your Tibet tour, Norbulingka should be a part of your Tibetan experience, because of its unique beauty its importance to the Tibetans.
Explore Tibet is a locally-owned Tibet Travel. agency committed to responsible tourism, Tibetan travel permit and sustainable practice.